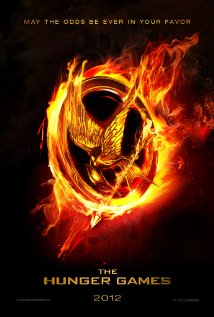 By Shelby Powell–
When it's announced that a book is being made into a movie, most people decide that it's better to wait for opening day. In a lot of cases, this is the best option. For a lucky few, however, taking the time to read a 300 page book is well worth the effort. The Hunger Games by Suzanne Collins is one of those books.
The Hunger Games is set in the not-so-distant future amongst the ruins of North America. The United States is now Panem, a country of 12 districts. Because of a prior uprising, each of the districts must offer up 2 tributes to compete in a fight to the death known as The Hunger Games. There can only be one winner and the entire saga is broadcast to every citizen. The heroine, Katniss Everdeen, is a self-assured tribute from District 12. Collins follows Katniss through every point of her fight in The Hunger Games.
The Hunger Games is thrill ride from start to finish. Collins spares no detail, elaborating on the most visceral and gory. The characters, even the most secondary, are well thought out and have a depth that other novels lack. Collins universe has a very clear mythology that she relishes doling out in bursts, leaving the reader breathless and desperate for more.
The single weakness of the inaugural book of The Hunger Games series is that it ends too soon. The middle of the novel is rife with detail and feeling but it seems like the last 5 pages were written in a rush. It's an interesting marketing device, almost forcing the reader to continue with the series in order to finish with the story. In the context of a single novel, though, it feels like a cheap ploy.
Lionsgate recently announced that they would begin production on the film adaptation of The Hunger Games starring Academy Award nominee Jennifer Lawrence as Katniss Everdeen. The Hunger Games is almost sure to be a hit in the vein of the Twilight series but, as with many book to movie adaptations, some details will be left out. Some plot lines may be tweaked. It is unfortunate but also an expected side effect of turning a 374-page book into a 2-hour movie.
To fully experience Suzanne Collins world and discover the characters the way an audience was meant to, pick up The Hunger Games at your library today.