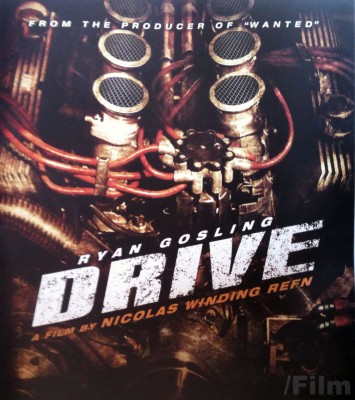 By Shelby Powell–
Drive is the story of a nameless Hollywood stunt driver (Ryan Gosling) that occasionally moonlights as a getaway driver for any number of Los Angeles based thieves. Gosling's character, often referred to as the kid or the driver, has a simple rule. He works for 5 minutes. If something goes wrong before or after those 5 minutes, he will drive away and leave the real criminals to fend for himself. The driver forms a relationship, a raw and magnetic attraction, with a single mom (Carey Mulligan) that leads the hero into violent, unfamiliar territory.
Nicolas Winding Refn, a talented import from Denmark, directs Drive. Refn is best known, if you've heard of him at all, for ultra violent films like Bronson and Valhalla Rising. His latest project follows in that path. Drive is an infusion of a violent bloody heist movie and an 80's art house film. When a confrontation occurs, it is imaginative in its viciousness. The gore is, at times, reminiscent of a Quentin Tarantino film.
Refn spins an interesting tale in Drive. While the gore and crime seems to be the director's trademark, he builds a heart wrenching romantic relationship between Mulligan and Gosling. The driver, though he never verbalizes it, appears desperate for intimacy and love. Through a series of scenes with almost no dialogue, Refn makes it clear that Mulligan, with her earnest smile and misplaced modesty, is exactly what the driver craves.
The direction aside, it is Ryan Gosling that carries this film. Pigeonholed as the romantic lead after his role in The Notebook, Gosling goes against the grain and shines in Drive. He has the rare talent to show everything to the viewer without saying anything at all. When an indie film like Drive relies very little on the script, it is important that the star can act through that barrier. Gosling does just that.
The secondary actors deserve just as much mention. Bryan Cranston, currently starring on Breaking Bad, shines as the driver's mentor. His scenes are few but he leaves a lasting impression on the viewer. Albert Brooks plays against type as a brutal villain seconds from exploding. His climactic scene will haunt the viewer for days. Christina Hendricks, the buxom actress from Mad Men, makes the most out of her limited time on screen.
Drive leaves itself open to interpretation by the viewer. The values, the ending, and the important subtext are all subject to your own personal values. If you're looking for a clear-cut action movie with some well-directed chase scenes, Drive might not be for you. If you expect to leave the theater pondering the fictional Los Angeles that Refn created, be sure to drive into theaters before the film is gone.