By Claire De Roin—
The all-seeing eye on the back of Emilee Hardy's neck will be with her for the rest of her life. The same goes for the other tattoos on her body. With the growing acceptance of body modifications in today's society, Hardy doesn't believe employers will have a problem with them.
"I hope to one day teach religious studies at a small, liberal arts college and typically, liberal arts schools are more open to diversity, even in the art of body modification," Hardy, a sophomore from South Sioux City, said. She thinks some career fields are more accepting of body modifications than others.
Morningside Career Counselor Stacie Hays urges discretion when it comes to tattoos. Employers judge potential employees on their first impression, she said, adding, "If you're going to an interview, if you are able to take out or minimize piercings, cover tattoos, that's the best thing to do."
Even though she counsels people who have tattoos to put them somewhere that can easily be covered, Hays said, "As we move forward, employers are more and more open to it."
Hays has advice for those who refuse to hide their body modifications. "If you are a person who feels strongly about expressing yourself in that way, it's important for you to go to the interview like that."
Hardy has seven tattoos. These include the alpha and omega symbols, an outline of the state of Nebraska, a pictorial interpretation of a Bible verse, arrows to symbolize her religious views, an all-seeing eye, and a fleur de lis.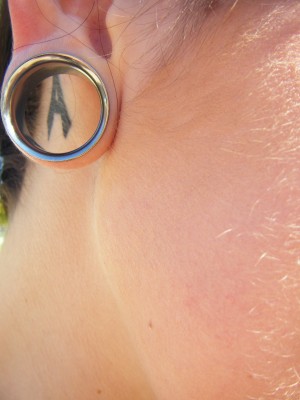 She understands the impact those piercings and tattoos might have on future employment. "I think that it's acceptable for employers to take looks into account. Thankfully, all of my tattoos can be easily covered up."
For students pursuing careers in which personally connecting with clients of all sorts is a must, such as insurance sales, body modification may be an issue. "If a piercing or tattoo doesn't sit right with that person, it's going to be difficult to overcome that first impression. It comes down to individual expectations and what people have strong opinions on," Hays said. "Employment used to be formal, but it's becoming more informal. We should still pay attention to it, though."
According to Kelsey Saboe, a Counseling Psychology major from Royal, Iowa, her piercings won't affect her chances of getting a job. "I think that the older generations in the business world are already starting to accept the fact that youth like body modification. It's not seen as a distraction any more. It's starting to become more common place."
Saboe has twenty-five body piercings, twenty-one of them in her ears.
"I hear from my parents that they will have to come out some day," Saboe says. Saboe is planning on going into music therapy and says of interviewing for jobs, "Not everyone is willing to take out their eyebrow ring or get their tattoos removed for a job. I would like to think that, since my generation has shown a growing interest in body modification, the professional world will have to change to accept it."