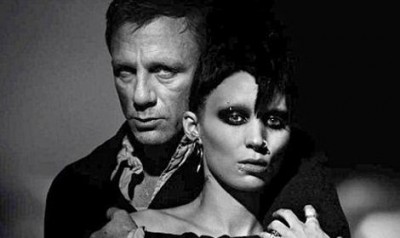 By Shelby Powell–
David Fincher released the full-length trailer for his latest opus The Girl with the Dragon Tattoo, which stands at an unprecedented 3 minutes and 45 seconds.
Starring Daniel Craig and Rooney Mara, it is an American adaptation of the literary trilogy written by Steig Larsson. In what could be classified as a franchise reboot, Fincher is following in the footsteps of Swedish films that were released last year. The film also stars Stellan Skarsgard, Robin Wright, and the venerable Christopher Plummer.
The Girl with the Dragon Tattoo follows Mikael Blomkvist (Daniel Craig), a disgraced journalist hired to solve the 40-year-old disappearance of a young girl. Lisbeth Salander, the title character, aids Blomkvist in his quest. Salander, played by Rooney Mara, is an uncommonly skilled computer programmer with tattoos, piercings, and a penchant for black leather.
For fans of the book, the success of this variation remains to be seen. To those new to the Lisbeth Salander saga, The Girl with the Dragon Tattoo seems on track to become the newest in a line of classic David Fincher films. The trailer is riveting in that it doesn't shy away from the raw anger and shock value of the key storyline. Fincher promised that he would push the envelope with this movie and it looks as though he's doing just that. The consistent utilization of the jump cut leaves the viewer breathless and dizzy, wanting more.
When The Girl with the Dragon Tattoo premieres on December 21, those not faint of heart will want to line up for Fincher's latest tour de force. Pay the full ticket price, if only to see Daniel Craig playing someone other than Daniel Craig.
Watch the trailer HERE.