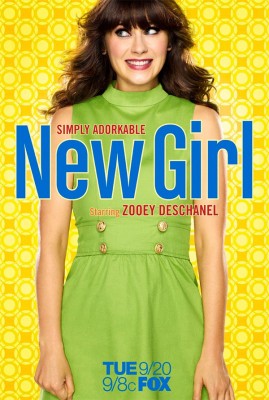 By Shelby Powell–
Zooey Deschanel stars in the Fox sitcom New Girl as Jess, a twenty-something in search of an apartment after finding her boyfriend with another woman. She finds herself living with three men, a mix of the male archetypes most viewers are familiar with.
There is Nick (Jake M. Johnson), the overly sentimental young man recently dumped by his girlfriend. Also, Schmidt (Max Greenfield) is the single-named ladies' man of the group. He is also the most frequent contributor to the apartment's Douchebag Jar, a punishment for saying something too silly or too forward. Finally, Damon Wayans Jr. plays Coach, the personal trainer and most emotionally unavailable of the trio. A young woman's tears are Coach's kryptonite. In the course of the pilot episode, the four principles learn from and embrace one another.
The single strength of New Girl lies in its supporting cast. Greenfield, Johnson and Wayans have an easy chemistry that would be better served in a different format on a different show. Being forced to trail behind and moon after Zooey Deschanel is doing all three talented actors a disservice.
New Girl's biggest problem is its star. Zooey Deschanel is a walking sixties throwback, best known as the star of the indie smash hit (500) Days of Summer. With her blue eyes and thick dark hair, she seems tailor made to play the ethereal girl who likes Ringo Starr simply because no one else does. In New Girl, however, the series is built on Deschanel's supposed awkwardness. Watching her be turned down by a series of men is not only farfetched but it's also poorly done. Slapping a pair of thick-rimmed glasses on an exceptionally pretty young woman does not automatically make her an unfortunate loser in need of rescuing.
When looking for a new show to add to your Tuesday night schedule, skip New Girl. It isn't worth the time or energy required to turn on the television.