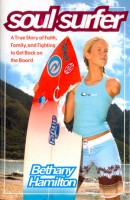 By Jordan Ogren–
"When you come back from a loss, beat the odds, and never say never, you find a champion."

Soul Surfer hit the big screen on April 8, telling the true story of pro-surfer Bethany Hamilton's courage to get back in the water after losing her left arm in a shark attack.
AnnaSophia Robb (no that's not a typo) plays the role of Hamilton, and I must say had a solid performance in her young career. Other stars like Academy Award winner, Helen Hunt, Dennis Quaid, Lorraine Nicholson, and country music singer Carrie Underwood also play major roles in the film.
The picture is set in Hawaii where the young surfer grew up. After winning an amateur surfing tournament, Bethany's dreams of some day becoming a professional surfer begin to come true when surfboard and apparel company RipCurl offer to sponsor her. Only a short period after, a shark suddenly, and anticlimactically, attacks Hamilton and her arm is torn from her body. She survives the attack and begins a completely different lifestyle that she is determined will still revolve around surfing.
After only a short couple of weeks, Hamilton eagerly gets back in the water and is actually back upright on her board during her first day of surfing after the accident. The rest of the film consists of determined training and a mission trip to Phuket, Thailand, after the devastating tsunami in 2004.
The film has its dry moments and a few happy-go-lucky hug-fests, but is overall a good picture for all ages. If you are a fan of water sports and determination, this is the movie for you.