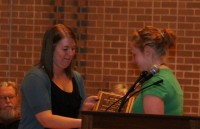 By Nick Buth–
Omicron Delta Kappa presented the Tommeraasen Award of Excellence to Alpha Lambda Delta at their annual honors convocation April 6.  The new Student Government officers were sworn in and awards were given by Morningside College's academic departments and honors societies.
Awards were also presented to faculty and staff members.
Alpha Lambda Delta, ALD, received the Tommeraasen Award of Excellence for their contributions in the area of campus and community service.
"I was glad to see Alpha Lambda Delta recognized for all of the hard work they did this year, including eight service projects and various other activities to support academic achievement within the first year," said Kelci Teut, ALD President.  "I think it says a lot about the future of the college if sophomores can be recognized for their achievements because if we are doing amazing things now, outstanding things are in our future."
Teut, who was recently selected for ALD's national committee, was also the recipient of the Sophomore Cup, a trophy given to an outstanding sophomore.
"Winning the Sophomore Cup was a total surprise for me.  I knew I had been nominated, but I didn't think I would get it because others appeared more qualified than myself."
Dr. Leslie Werden was voted faculty person of the year by the student body.  Werden is the chair of Morningside's new writing and rhetoric department.
Karmen Ten Napel received the first-year teaching and advising award in recognition of her work with first-year students.  It is presented with assistance from General Board of Higher Education and Ministry of the United Methodist Church.  The award is given to "an exemplary teacher who has helped first-year students succeed in making the transition to college."
The staff member of the year award went to Kathy Martin, director of church relations.  Each week Martin informs students of opportunities through campus ministries, and leads the Morningside College Mission Team.  She has led mission trips to Mississippi, Texas, and Louisiana to assist with efforts rebuilding after hurricanes and most recently took a group to Shiprock, New Mexico to help build houses over spring break.