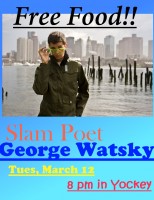 By Gustav Hollnagel–
George Watsky has gathered more than eight million views on YouTube. Simultaneously, he has become a well known slam poet all over the country. On Tuesday, April 12, he is bringing his talents to Morningside.
George Watsky is a writer and performer who believes in the equal power of the tear and the belly laugh. He graduated from Emerson College with a B.A. in "Writing and Acting for the Screen and Stage."
Watsky was crowned the 2006 Youth Speaks Grand Slam Poetry Champion, 2006 Brave New Voices International Poetry Slam Champion, and performed in a record six consecutive Youth Speaks Grand Slam Finals.
MAC is bringing George Watsky to Campus, specifically the Yockey room. MAC is also providing free hot wings, onion rings, cheese balls and other snacks.
The following night, Wednesday, April 13, Morningside will host its own annual Poetry Slam down at Buck's. Sigma Tau Delta sponsors the event. Anybody can enter the contest and present his poetry in a faster fashioned way.
Check out this YouTube video to get an idea of Watsky's skills set. Or visit facebook.com/gwatsky to explore more oabout George Watsky.