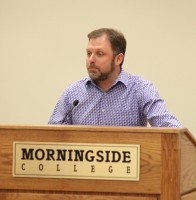 By Miranda Christian–
Anti-racist author and speaker Tim Wise talked to students and the public this week, then gave a presentation to a session of the Leadership Academy.
In his speech to the general Morningside audience, Wise used a comedic undertone to discuss people being "color blind." He hit a lot on stereotyping certain races and assuming everyone middle and lower class is African American.
Taking what Wise talked about in the first half, the Leadership Academy focused more on how social justice fits into being a leader?
Wise's response to the question was, "Leadership is all about going first and taking the first step or action."
Wise described how he would go to the mall and watch how people react to different races. There was a specific example he gave:  a couple black men were being escorted out of a store because they were looking suspicious. In response, he started to act as though he was going to steal something. No one seemed to even react to his behavior.
He then actually approached the owners of the store and pointed out what he was just doing. "I may not have changed their mind about the stereotype they had about black men in their store, but at least I made them think about their actions."
Another topic discussed is how individuals can overcome sexism and racism in the working world.
Wise said, "It's hard to give advice about sexism and racism because I have never had to deal with it, being a white man. But, unfortunately, you are going to have to work twice as hard and be ready to work that hard. You must also identify your allies and work together."
The seminar was a great opportunity for a smaller number of students to ask questions dealing with issues college students deal with.