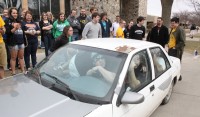 By Jordan Ogren–They say when in Rome, do as the Romans do. But if you are in search of some exciting activities this week on campus, do as the Greeks do! Greek Week is here at Morningside all week and everyone is invited to join the fun.
What is Greek Week you may ask? Greek Week is a week of "Greek Wars" between fraternity and sorority members to prove who is the superior force at Morningside College.
"Delta Sigma Phi, Acacia and Alpha Omicron Pi are all involved with Greek Week and are the ones who put on and participate in the events," said head of Greek Council Corey Young. However, any and all are welcome to join the battle.
The week started with "Pack the Car" at noon on Monday in front of Olsen Student Center. Pack the Car is a contest to see who can "pack the car" with the most people.
Tuesday's event, "Redneck Olympics," includes games like ladder golf, shaving a balloon, and a game of horseshoes replaced with toilet seats. This event was postponed due to weather and was rescheduled for Wednesday afternoon.
On Wednesday night, right after "Redneck Olympics," there is volleyball at 8pm. Each fraternity and the sorority select 3 players to represent their chapters and duke it out.
Thursday for dinner there will be a hotdog eating contest in the cafeteria at 5pm. The fraternity or sorority that downs the most dogs wins!
Finally on Friday afternoon at 3pm is Greek Trivia. This is a way for each organization to boast their brains and defeat their rivals in a game of knowledge and wit.
"Greek week is a good opportunity to get the fraternity and sorority names out there so more people recognize us," Acacia member Ryan Tellinghuisen explained.
And if you still haven't had your Greek Week fill after this week, there will be a Post-Greek Week Movie Night in UPS Auditorium at 8pm next Tuesday, March 29. Let the games begin and may the Greeks be with you!