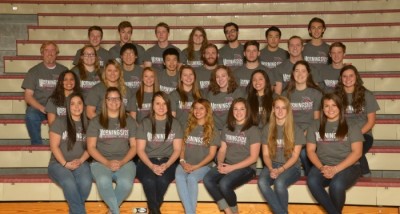 By Alyssa Nehring–With the Liberal Arts Championships Swim Meet right around the corner, the Morningside swim team is looking forward to ending its regular season with national qualifying times.
The Mustangs have set themselves up for a great end to the 2015- 2016 season. Head Coach Bryan Farris said the team has done a lot of hard work this season.
"We've swam miles and miles, some even in Arizona. And now it's time to rest and use that energy in the big meets," stated Coach Farris.
Currently only six swimmers have the NAIA national qualifying times: Tim Cohoon with a 50.01 in the 100 freestyle, Tyler Halligan with a 56.04 in the 100 backstroke, Evan Persson with a 22.28 in the 50 freestyle and 49.38 in the 100 freestyle, Evelyn Edge with a 2:04.69 in the 200 freestyle, Tracey Gates with a 19:19.03 in the 1650 freestyle, and Aggie Mullen with a 1:04.48 in the 100 backstroke.
However, many people are expected to qualify at the Liberal Arts Championships Swim Meet on February 11th, 12th, and 13th. Currently the team is in the taper part of their season. Taper is the resting period where the yardage goes down and the intensity goes up. This is used to let the swimmers get rest and build up the energy for good swims.
"The rest is important for our muscles so that they can rebuild strength and perform well at meets," Coach Farris commenting on the taper process.
The Morningside swim team were in action at the University of Minnesota on February 5th and 6th. Results can be found on the Morningside web page under athletics.