by Caitlin Casey
The cold weather didn't stop the Mustangs from competing in the Sioux City
Relays this past weekend. The meet began Friday night, the high for the day being
35 degrees, with snow still on the ground. Saturday was a little better, with the sun
finally making an appearance. Despite the not so perfect weather the Mustangs
managed to qualify three individuals and 2 relays for nationals.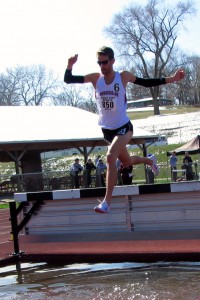 Neeia Cooperwood, who was recently named the Hauff Mid-America Sports/
GPAC Women's Track Athlete of the Week, was named the Sioux City Relays MVP in
the women's collegiate division. She also punched her ticket to nationals with a
jump of 19-3/4 in the long jump. She won the 400-meter run on Friday with a time
of 59.56 and the 100-meter dash Saturday with a time of 12.29 seconds.
Cooperwood was also part of the sprint medley relay that finished second with a
time of 4:19.49.
On the men's side Monte Larson brought home the MVP award. Larson was
the anchor leg in the sprint medley, 1600-meter relay, and the 3200-meter relay. All
three relays finished first. Individually Larson won the 800-meter run on Friday
and finished second in the 400-meter hurdles on Saturday with a time of 52.53.
Larson automatically qualified in both individual events.
Garret Ehlers was the other individual qualifier for the Mustangs in the 3000-
meter steeplechase. Finishing second in the Sioux City Relays with a time of 9:16.79,
he is currently ranked first in the nation.
Both men and women's 4×800 teams (indoor national champions) qualified
for outdoor nationals on Saturday as well. The women provisionally qualified with
a first place finish time of 9:30.62. The relay was made up of Jennifer Petsche,
Shelby Hall, McKenzie Reece, and Breanna Mathes. The men's relay team of Brad
Wright, Jacob Willey, John Harris, and Monte Larson automatically qualified and
finished first with a time of 7:48.21.