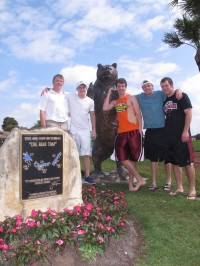 By Sarah Davy ~
To start out the spring season, the Morningside Golf team took a trip down to Orlando to golf in the warmth and sun. While they were there, the men's team took on the Detroit Titans, a Division One school from the University of Detroit Mercy. Seth McCulley, Cole Schwarz, Alex O'neill, Matt Pitts, and Nick Hessa were the five lucky golfers that traveled down south for break, along with five lady Mustang golfers and their Coach, Todd Sapp.
They played at the PGA Village course located in Port Lucie, a renowned PGA golf course. The meet was played as a match play. Morningside put up a tough fight. The blustery weather conditions provided a challenge for the men but they were not leaving without a fight.
Losing the match 0.5 to 4.5, Cole Schwarz came in with the only half point for the team. Coach Todd Sapp was very impressed, seeing that Detroit has some very talented golfers.
All of the golfers had a fabulous time on their trip. The team went site seeing in Miami, watched the Honda Classic to see Rory Mcllroy become the number one golfer in the world, and played at the PGA country club as a team.
Coming up on March 26th and 27th, both the Men and Women's teams will be traveling to Lawrence, Kansas for their first conference meet of the spring season.