by Kassidy Hart–The Morningside Civic Union (MCU) and The Colonel Bud Day Center for Civic Engagement hosted the first debate watch party of the 2020 Presidential Election Tuesday (9.29).
Students across campus were invited to join the debate watch party either in person in Weikert Auditorium or via Zoom. About 30 people attended in-person and 18 attended online.
"For the most part, students are only informed about specific issues they are interested in and through social media bashing and advertisements. This event allows for students to learn more about the candidates and creates more educated voting," sophomore Garrett Arbuckle said.
Many of the students were looking forward to the event because it offered an opprtunitity to learn more about President Donald Trump's and Vice President Joe Biden's policies.
"I already know about Trump, but I'm hoping to learn more about Biden," sophomore Micki Twedell said.
For a lot of student voters, it is their first time being eligible to vote. To ensure voter participation, MCU set up a table and handed out forms to get students registered to vote.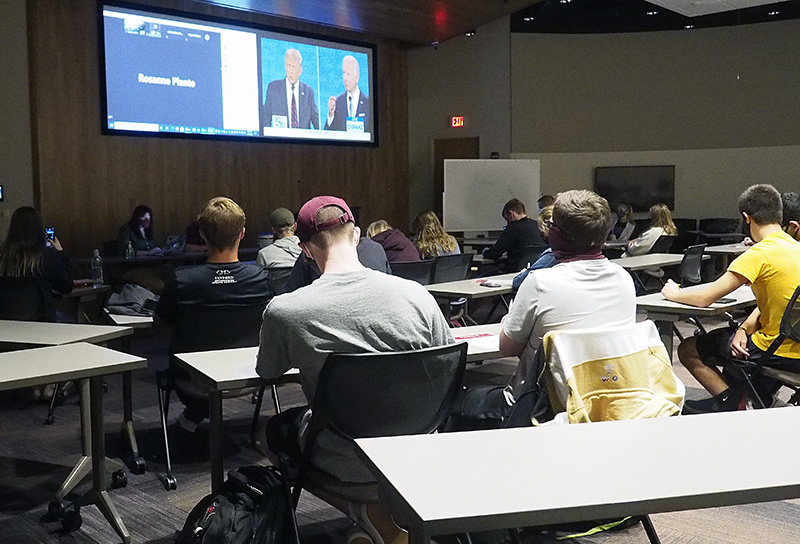 "By doing this, we make the option to register to vote easily accessible for everyone. We've done it during normal class times already but having it during after-school hours allows for students to fit it into their schedule. Plus, students may even be inspired by the debates to register," Arbuckle said.
And though there were many students attending to jump-start their political knowledge or add on to it, students experienced with politics were also present. They were there to soak in the atmosphere and enjoy the debate with friends
"I'm a part of MCU and am also a political science major so I find debates interesting. And I'm here with my roommates who I brought to watch with me," senior Madison Legrand said.
One of these experienced students, senior Pascal Kutschera, came to the event just to hear what his peers thought about the debate afterwards. 
"I'm German so I can't vote but I do enjoy politics and am interested in others' thoughts. I also don't think that the debates are the main thing voters should go off of because they are not very accurate. People should do more research," Kutschera said.
Throughout the debate, hearing others' opinions on the debate became even more important for students, especially those who were watching on Zoom.
"I had a lot of mixed feelings as the debate went on and that's why I was wondering how others were feeling. In my opinion, it is always good to hear varying opinions and reactions. I, myself, was very overwhelmed in the first 15 minutes," senior Kalynn Manker said.
After the debate wrapped up, MCU students took a poll on who the students in-person thought won the debate and the results were mixed, with many not raising their hands at all. Out of about two dozen students, only five voted that Vice President Biden won and five voted that President Trump won.
"I think students here just had mixed feelings overall. Many of them expressed their disappointment in the lack of civility from both parties," Director of The Colonel Bud Day Center for Civic Engagement and Associate Professor of Political Science Dr. Valerie Hennings said.
Even though the debate left many students feeling a sort of uncertainty, MCU saw a large turnout for the event, both in-person and online, and could count this event as a win for the Morningside community involvement. They were able to encourage political activity and share the importance of voting.