Oct
10
October 10, 2019 | | Comments Off on 16-year-old, Greta Thunberg, confronts nation leaders at UN Climate Action Summit-2019
At yesterday's Climate Action Summit of the UN, Thunberg criticized the members of the UN for not being honest and not taking serious actions in terms of the climate change. The Swedish climate activist was received with applause during her speech but created controversy as well.
Thunberg directed her speech in a very confronting manner to the members of the UN. She built her speech around the catchphrase "How dare you?" which shows her disappointment of the situation and the way things have been handled until now.
She used facts and numbers to clarify her point and also named a few sources, for example IPCC. But the way she mentioned those facts was very confronting again.
In the speech, she still shows some hope in the UN. Even though she is very critical, she says "Because if you really understood the situation and still kept failing to act, then you would be evil. And I refuse to believe that.".
After her speech and the UN meeting, 65 nations had announced that they will try to achieve net-zero emissions by 2050.
Oct
10
October 10, 2019 | | Comments Off on Story #2 Draft: California NCAA athletes will be compromised from 2023 on
On September 30th2019, the "Fair Play to Play Act" was signed by California Governor Gavin Newsom, which will allow college athletes in the states to make money off their name, image and likeness.
With the introduction of the "Fair Pay to Play Act" in 2023, the NCAA will not be same anymore. All college athletes of the state of California in the NCAA will be paid for the use of their likeliness. Jersey and ticket sales but also commercials will be opportunities for the athletes to earn some money during their college career.
This topic splits the college athletics community, with many supporters but also people who think that this might be the beginning of the end of the NCAA.
Mike Krzyzewski, head coach of Duke University, is one of those impactful supporters. Coach K talked positive about "Act 206" at the ACC conference media day, saying "We need to stay current". Even though Duke will not be affected by the act until the state of North Carolina signs the act, too, Coach K has the opinion that this will make more athletes want to play college sports. "…we have not always responded to the needs and right of our players swiftly and frankly…" Krzyzewski added in his statement.
Tom Maxon, head coach of the Morningside College soccer teams, has a more critical view on the "Fair Pay to Play Act". Maxon said in an interview "The idea makes sense; many players are struggling financially during college and after but it will be really unbalanced'. Maxon fears that the act could affect a few amount players positively but the majority will not be seeing the big money.
Morningside senior and former basketball player, Usa Suud, sees a progress with the agreement of the act. "It is a step towards the right direction, especially for athletes who are capable of making it into the pro leagues, but get injured during college. in the past those athletes were left with nothing… Hopefully other states will follow the example soon"
Women's soccer player and Sophomore at MC, Kenzie Homan, has a skeptical view on the execution of the act. "I understand the step they are trying to take but it would be fair to have equal salaries between both genders… Men might generate more attention but female athletes put in just as much work"." Women could be the losers of this act", Homan added and this opinion is wide spread in the community.
Sep
19
September 19, 2019 | | Comments Off on Netflix Recommendation & Mustangs Logo
Netflix Recommendation
Today I interviewed Mikayla Marching, sophomore at Morningside College, about her favorite Netflix show. She was a random person on campus that I picked, so there was no specific reason for the choice. She reacted like she did not necessarily wanted to talk to a stranger but she was still kind and polite.
When I asked her if she watches Netflix she said "Oh sure, my main way to kill time". Mikayla recommended "Criminal Minds" on Netflix to me. "It has interesting characters, and a lot going on" she included as one of the main reasons why she likes it.
Mustangs Logo
Other than that, I also interviewed Caroline Black in the student center. Caroline is a MAC advisor and she was promoting activities for homecoming.
She wore Morningside "Homecoming 2019" shirt with a mustang logo on it. "Since I am a MAC advisor, I am supposed to promote our homecoming week with this shirt" Caroline said. She also really likes the "Clean maroon and white design"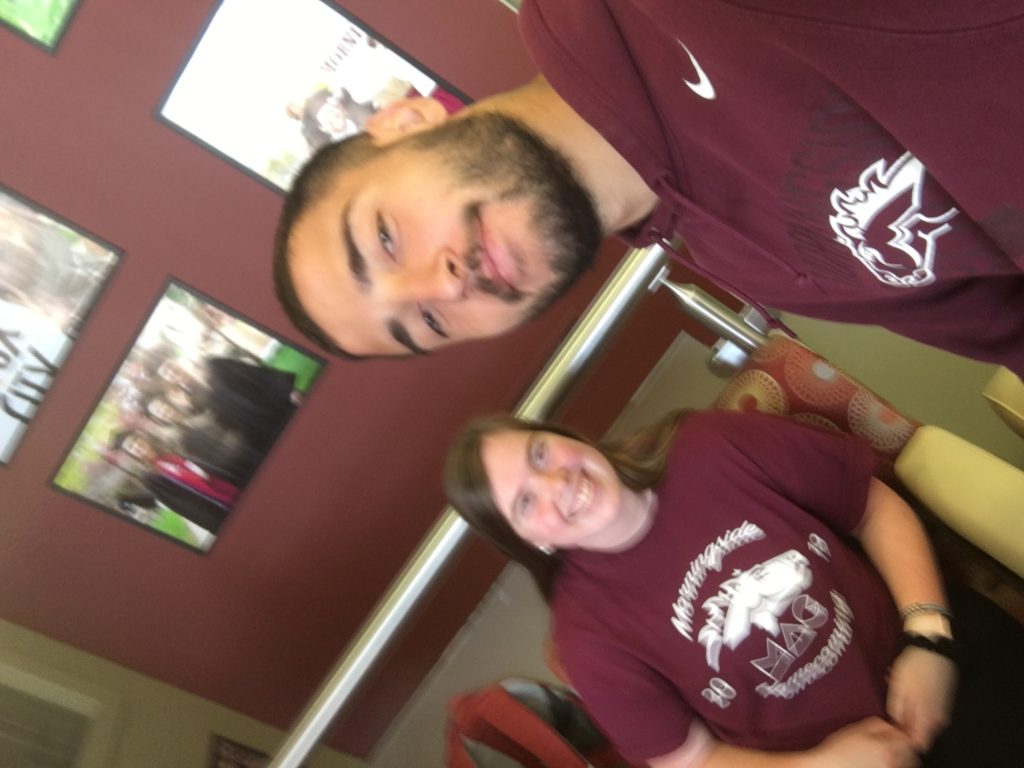 Sep
17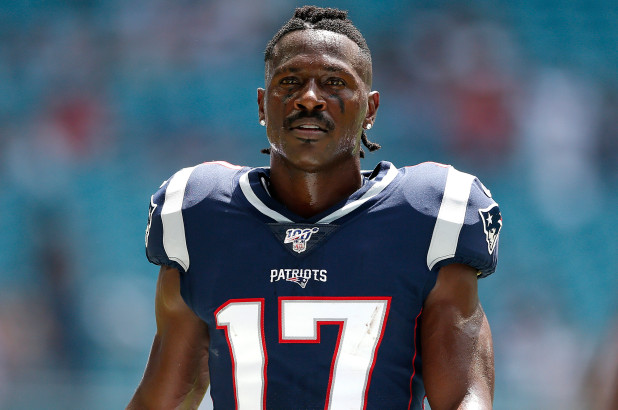 Former Steelers wide receiver signs with Patriots after publicly sharing his frustration about Raiders organization, which released him three days ago without playing him for a single game.
By Okan Golge
Just a few hours after his release by the Oakland Raiders, Antonio Brown signed with the New England Patriots on a one year, $15 million deal. Even though experts expected that move by the Patriots, the entire league was surprised with the pace of the finalization.
The reaction to this signing was mixed with a lot of officials criticizing Brown. According to cbssports.com Brown's actions in the last months disappointed people who he looked up to throughout his whole career. CBS reported, that NFL legend and former raiders player Jerry Rice told 95.7 The Game, "We all got played [by Brown]," and Rice added, "He contacted me, he told me that he wants to play here in the Bay Area. I bought into it…, but I think [signing with the Patriots] was already planned."
ESPN's Adam Schefter and Chris Mortens reported that the New England Patriots already tried to acquire Brown last summer with a first round pick while Oakland was only offering third and fifth round picks. However, the Steelers still agreed with the Raiders to avoid making the reigning NFL Champions more versatile.
People like Rice were especially disappointed, about the way that Brown's journey went over the past months. ESPN outlined that Brown spent a lot of time away from the raiders too, because he arrived to training camp with frostbite on his feet, and publicly requested to wear a helmet which is not legal in NFL anymore. Additionally, Brown had verbal arguments with general manager Mike Mayock and got fined many times this summer for a total of more than $215.000
There is an even amount of people who understand and support his decision. One of them being his Head Coach at the Raiders, Jon Gruden. The Huffington Post quoted Gruden on his press conference on Saturday,"… And I wish Antonio nothing but the best. I'm sorry that we never got a chance to see him in silver and black. … I really looked forward to coaching him…". Coach Gurden also added on ESPN's webpage, "I tell you, he's a good guy," the Raiders coach said. "He's misunderstood by a lot of people".
ESPN.com also mentioned in its article from Sunday," Brown finds new home, agrees to deal with Pats", that Patriots Quarterback, Tom Brady is fully behind the signing of Brown and even offered Brown to stay with him and his family until Brown gets settled in Boston.
Brown took his frustration to social media and shared his fines und phone calls that he had with the Raiders officials, with his followers on Instagram and Twitter. He also posted a video on Saturday morning. In that video Brown screams, "I'm free." after seeing that he was released by the Raiders.
After sitting out for the season opener of the Patriots (win against Steelers) due to the short notice signing, Antonio Brown will be fully eligible to play. Brown is expected to play his first game for his new team in their week two matchup against the Miami Dolphins on Sunday September 15.
Recently, Brown has been accused of sexual assault by his former Trainer, Britney Taylor. Brown and his management denied every single accusation and denied a settlement of $2 million . The NFL however will investigate, according to the Huffington Post article "Antonio Brown Makes Patriots Debut Days after Woman Accuses Him of Sexual Assault". Brown's attorney believes that this is a case of "money grab".
Sources:
https://www.cbssports.com/nfl/news/jerry-rice-says-antonio-brown-played-him-thinks-browns-signing-with-patriots-was-always-the-plan/
https://www.washingtonpost.com/sports/2019/09/07/antonio-brown-pens-latest-chapter-saga-tells-raiders-release-me/?noredirect=on
https://www.huffpost.com/entry/antonio-brown-patriots-debut-sexual-assault-allegations_n_5d7ef8bce4b03b5fc885e431?guccounter=1&guce_referrer=aHR0cHM6Ly93d3cuZ29vZ2xlLmNvbS8&guce_referrer_sig=AQAAADZdaDN-xfUfrnllj71_Hc5zWYBzYAM6QftAIAbasZlPr1Y5J38PcBXs2O763-fIUFFxDuR-fpqDN0jVR1QIefww8ZuRaMQOiildN_9SjESxE8YF4Aa0VLVsrJFgp-4KOMfbEC5ygj6hgtLDNPuGX_HGS4HEyPoB5IShVCmkJ_aA
https://www.google.com/url?sa=t&rct=j&q=&esrc=s&source=web&cd=1&cad=rja&uact=8&ved=2ahUKEwik9PjyhdjkAhXhmq0KHRQpC4YQFjAAegQIABAB&url=https%3A%2F%2Fwww.espn.com%2Fnfl%2Fstory%2F_%2Fid%2F27561787%2Fbrown-finds-new-home-agrees-deal-pats&usg=AOvVaw1c7FrCztcn9KESJZPdey1w
Sep
5
The Vox news article "Joe Biden is in trouble over a fundraiser tied to a fossil fuel company" published by Ella Nielsen on September 4, 2019, deals with a case that might have an influence on Joe Bidden Chances for his candidacy for 2020.
The former Vice president had committed to attend a fundraiser event, which was partially sponsored and hosted by Andrew Goldman. Goldman is a co-founder of LNG, a natural gas producer. During the CNN climate town hall on Wednesday night Biden got confronted by Isaac Larkin in the audience, who is a supporter of Bernie Sanders. Larkin asked Biden if he thinks that he is still trustful, when he accepts financial help by gas industry even though he always pledged to not do so. Biden defended himself by not knowing that Goldman was a co-founder and that his team and Biden only checked if Goldman is executing an active role in the company. Biden added, that know after he knows what Goldman backstory is, he might consider again if he attends the fundraiser or not.
The writer, Ella Nielsen, does a really good job in this story, showing both sides of a discussion but giving one more depth, because it is the logical right opinion. She explicitly explains Biden's mistake and gives his argument of "not being aware of the situation" a way shorter paragraph. It is simply a mistake that should not have happened to a presidency candidate and his team. Nielsen is therefore not confusing her audience by giving both side equal length but clearly shows where the mistake is. Just like we talked in class it is not always necessary to give each opinion equal value, it just causes confusion.For me as a Biden supporter it is not a big deal though, since he did not yet attend and accepted any money from those people who are involved in the gas industry. It also a mature move to say "he may rethink his decision of going to the fundraiser". It doesn't make him look untrustworthy and he still kind of stays to his decision.
Aug
29
The article "NFL says Hunt can't be with Browns during ban" published by ESPN on August 28, 2019 deals with Kareem Hunt's eight-game suspension. The running back got suspended from the NFL for two off-field violence cases last year and was immediately released by his former team, the Kansas City Chiefs. The Cleveland Browns who ended up signing Hunt as a free agent will have to go without their 2017 rushing yard leader for the first half of the regular season.
However, the Browns had asked League commissioner Goodell for permission to have Hunt around the team at practice but it was rejected. So, now Hunt is not allowed associate with the team on the practice facilities until his ban is over.
In my opinion, this article does a good Job in delivering short, right to the point, objective and important news. the shortness of the article makes very easy to follow and the editor used many but pretty short precise paragraphs. Those helped realizing when he started a new point or idea. Also, the short sentences that were used, made me understand the story better since it is way easier to follow along. They basically just gave the reader everything he needs to know and not too much or too less.
ESPN also did well in terms of objectivity since they did not take any sides on this case. They objectively explained Hunt's crime without making him look like he is a really bad guy and on the other hand they used quotes of his teammates, like Baker Mayfield to make a point why Hunt joining the team might be useful for all sides. They found the right balance in showing both parts of the discussion.
This news is very important for the NFL, since Hunt is one of the best Running Backs in the league and once he returns these first two months without the team might have an impact on his role and impact on the team.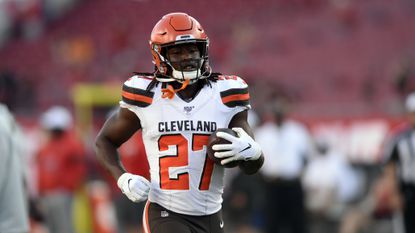 Aug
27
The news article "Opinion: Report On Racism, But Ditch The Labels" posted on the NPR website on July 17, 2019, deals with the NPR calling president Trump a "racist".
Trump used twitter to tell democrat congresswomen with foreign origins to help their own "…worst, most corrupt…" governments, before criticizing himself and the US. On the NPR.
On NPR's podcast "Code Switch" NPR's VP of Newsroom Diversity and Training, Keith Woods, said that the news website will not change their opinion and that it is their Job to make those kinds of characterizations. I will have to agree with Woods on this topic. At first it might look unprofessional to title somebody's tweet as "racist" but what president Trump tried to put in nice words in his tweet, was basically an appeal to the women to go back to their country of origin. NPR is just saying out loud what a lot of people think and they are not wrong. I agree with the approach of NPR and Woods standing behind the characterization, because in class we also came to the conclusion that one of the most important jobs of media is to tell people the truth and be precise with it.
Aug
27
Sam Storey is a sophomore at Morningside College. He came to Sioux City from London, England hoping to major in general business. After his anticipated college degree, Storey plans to work his way up as a leading person in a company.
Being able to combine his passion for sports with a college education, is what interested him in the US. The Golf coach and the academic reputation of the school were major reasons why he joined Morningside College.
In his Freshmen year, Storey was part of the first MC Men's Golf team that made it to nationals.
Other than that, he led the team with the lowest scoring average and played an important role during their successful 2019 run.
Sam Storey enjoys soccer a lot and is a supporter of his hometown club, Chelsea FC.