You can't help but to enjoy a restaurant that maintains a great aesthetic to go along with their delicious food. Trattoria Fresco clearly understood that their appearance could have just as much effect on their customers as the food itself. I wouldn't say their application of branding was perfect, but they clearly had a passion for looking and feeling like an authentic restaurant.
Previously, I had heard of Trattoria Fresco but had not eaten there before. I was excited to eat here as I had been told it was an interesting place with delicious food. I was also very curious to see how they would apply their identity and branding and how the aesthetics of the restaurant would appear as an Italian restaurant in Sioux City.
Finding the restaurant wasn't as easy as I hoped. The restaurant itself is tucked under an overhang on 6th street, which prevented someone driving by to see it, unless they were really looking for it. Once I found it though, I was very impressed by the storefront appearance. They had part of restaurant extruding from the rest of the wall in a unique way. The area was mostly made of windows, with a few small tables inside the area. It looked very intriguing and appeared as though it would be a perfect area for a romantic dinner from the movies. Their signage and logo design was underwhelming for me, though. The restaurant had a lot of things going for them to make it a really cool experience for any customer, but their logo work looked a little amateurish for the rest of their restaurant. It wasn't terrible, but it was definitely an area on which they could improve and develop a really cool appearance for themselves.
The dining area of the restaurant had a really cozy and comfortable feel to it. It simply felt like a great place to eat an Italian meal. The appearance added to the authentic Italian feel they were trying to achieve. It could appeal to a couple looking for a romantic dinner or to a family looking for a comfortable place to dine. Looking over the menu, I was again, underwhelmed by the logo, but impressed by the layout of the menu itself. It was easy to navigate with great descriptions to help customers understand what they were ordering. Our waiter was friendly, although he did make a few mistakes with some of our orders and wasn't the fastest either. We did learn later though that this was his first week, so I think he will improve with a little time. The owner of the restaurant, Israel, helped out and served our food. After our group talked with him a bit, I could tell just how passionate he was about his restaurant and ensuring every customer had an enjoyable experience. I really appreciated his attitude and friendliness.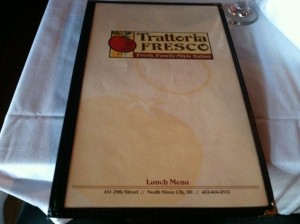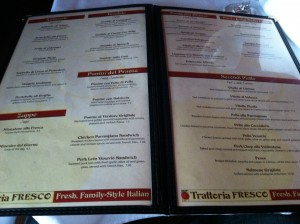 For my meal, I ordered the Fettuccine Alfredo with grilled chicken. It had a wonderful flavor and the alfredo sauce was perfect. The chicken was tender and moist and blended very well with the rest of the meal. It was a great meal and just made me want to return again and try something else. Our group ordered a few desserts to try as well. They were all amazing. The one that sticks out in my mind was the ganache. Part of it was like a chocolate truffle. All of it was mouth watering and delicious. I wouldn't feel any shame in simply returning to Trattoria Fresco just for that dessert again.
I had a really good overall experience at Trattoria Fresco. The food was spectacular and easily worth a return trip for that alone, but the aesthetics and feel of the restaurant helped with my good experience. In the end, though, I hope they consider improving their branding in order to just add to the already good experience.