While watching the Morningside Mustangs football team play at Elwood Olsen Stadium, there is a chance fans might notice a number 46 lined up fifteen yards from the line of scrimmage on a rare Morningside punt play. This player waiting to catch the snap and punt the ball, just as he has thousands of times before, is Colton Irlbeck.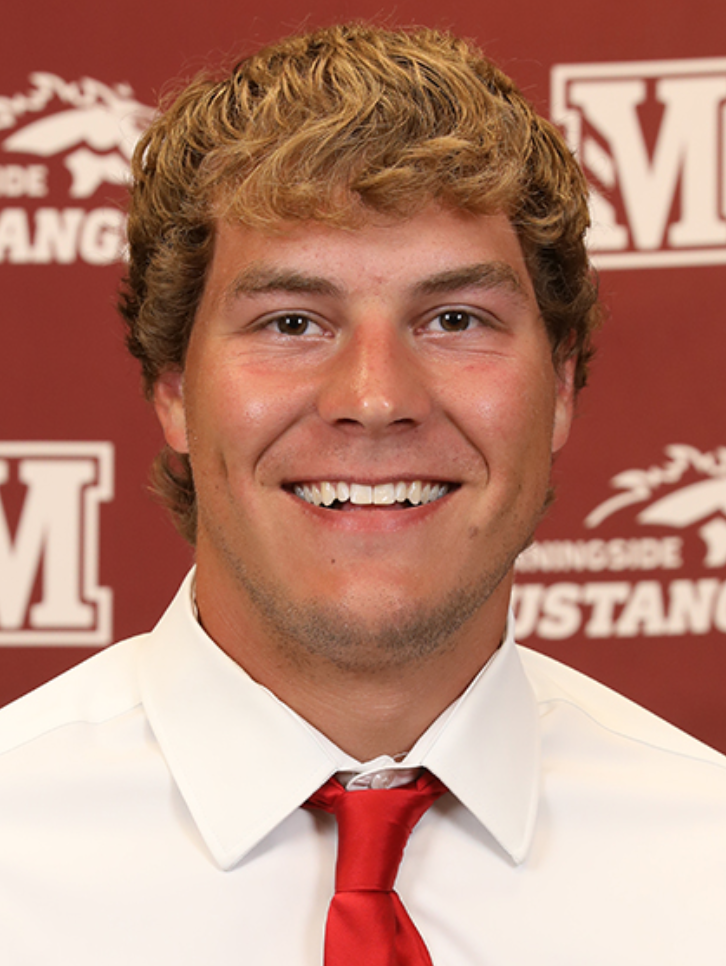 Irlbeck grew up on a farm with his parents as well as two brothers. While his father was working on the farm and mother at the local bank in Templeton, young Irlbeck and his brothers spent most of their time playing various sports with each other on their large plot of land. Irlbeck noted this time spent with his brothers in the backyard as where is love for the sport developed.
While at Kuemper Catholic High School in Templeton, IA, Irlbeck was a 4.0 GPA student and played varsity in two sports: football and soccer. Due to the two sports and lifting, Irlbeck had little free time, but mentioned, "Between school and sports my time at Kuemper seems like a blur, but I always really enjoyed going to the lake with my friends whenever we had the chance."
Once he graduated from high school, Irlbeck had a tough choice on his hands. He faced a choice between attending Iowa State University or the then Morningside College. Irlbeck said, "I had trouble picking, but once coach Ryan offered me a scholarship the choice was simple. I wanted to play football and Morningside gave me the chance to do it." Irlbeck added, "Now, I have no regrets about my choice."
On the field, Irlbeck is a two-year starter and one of the top ranked punters in the NAIA. In fact, Morningside long snapper Jacob Murphy exclaimed, "There is no other punter I'd rather have, Irlbeck has a unique mix of size and strength that is rare to see in a punter."
Off the field, he is an accounting and finance major in his senior year. In his rare off time, Irlbeck looks to hanging out with his friends, Irlbeck joked, "Since you spend so much time with your teammates, they easily become some of your closest friends, so I look forward to hanging out with them." Irlbeck is also an avid golfer when Iowa weather allows it.
Irlbeck reminisced about a blowout game against the Jamestown Jimmies where he had yet to play a snap in the game, so coach Ryan allowed him to take a rep at wide receiver. "I didn't get the ball thrown to me or anything, but I like to think that I did pretty good blocking the corner." Irlbeck recalled with a slick grin. Whether through his doing or not, the corner Irlbeck was blocking ended the play on the ground with Irlbeck standing over him, which caused an eruption of excitement from the Morningside sideline. Fellow Morningside kicker/punter Ben Steffens states, "I don't care what Colton says, he pancaked that corner and there is no arguing it."
After Morningside, Irlbeck hopes to become a financial adviser and possibly even own a financial planning office. Irlbeck mentioned multiple internships he has had through Morningside exclaiming, "I'm thankful for internships I've been able to do because they showed me what I like and possibly saved me from things I don't." Seeing his two brothers start their families has shown Irlbeck how excited he is to start a family.
"I feel like I've had a pretty basic journey here at Morningside." this underexaggerated statement from Irlbeck shows that no matter what he accomplishes, he will always be a humble farm boy from Templeton, Iowa.