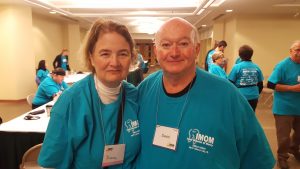 David and Diane Davidson are two Morningside alumni who are making a difference in the world.
As a dentist, David has traveled to 11 countries and performed dental care in them, three as an army dentist and eight as a missionary dentist. He has been president of the Iowa Dental Foundation since 2011. That group organizes the Iowa Mission of Mercy (IMOM), a two-day, free oral healthcare event where patients receive quality dental care provided by dental professionals.
Recently, David and Diane came to Sioux City to help head this free dental clinic.
"I believe this was the Iowa Dental Foundation's 12th IMOM," David said. "We do this event annually, traveling to different areas of the state. This is our second time in Sioux City. We generally do $1-2 million dollars of free dental care at each IMOM event."
David and Diane met as students at Morningside College and have been together ever since. Graduating in 1976, David majored in biology and Diane was a history and political science major. David went on to receive a Doctor of Dental Surgery from the University of Iowa, and Diane went to the University of Iowa College of Law.
Both were involved in campus activities during their time at Morningside. David sang in the men's choir, and Diane participated in student government, pre-law, and worked in the communications department and at the college switchboard.
When asked their favorite thing about Morningside, David said, "My first year I met two friends who have been my best friends ever since. I became my own person, and my second year of college, I met my wife of 43 years.
Diane's favorite things included Dr. Husband's history class and the convocation classes. "This was the 1/4 credit class where you got cultured," she said. "It started a lifetime of love for classical music and theatre."
David and Diane both had advice for current students and alumni. David's advice for current students was to enjoy your time at Morningside. "Time goes by quickly," he said "Take classes outside of your major just for fun. Also, learn to be creative and think outside of the box."
Diane said, "Be safe but look for adventures. Go someplace that doesn't feel like home. Make friends with someone from another country, another age group or a different religion."
To young alumni, David said, "Be generous and helpful to people who will never thank you, be philanthropic with your time and money, find your passion and live it, live each day as if it were your last day, have fun in life, do good, don't be mean to people even if they wrong you, don't let politics make you weird, find adventures and be faithful."
Diane said, "Promote yourself! In the Midwest, we are fairly humble and modest, but a job interview is not the best time to let those traits shine."
Both David and Diane have been very involved in their community since college. David and Diane have traveled to 65 different countries and all 50 states. They both are members of the Lutheran Church of Hope in West Des Moines, and Diane is an AFS High School exchange program volunteer. Diane practiced law for 30 years and now works as a clinic administrator at Davidson Family Dentistry, the clinic David owns and where he has practiced since 1980. David also has been an adjunct faculty for 19 years at the University of Iowa College of Dentistry.