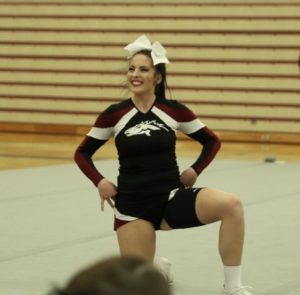 Samantha Rosa is a junior at Morningside College from Omaha, Neb., with a passion for nursing and cheering on the Morningside Mustangs. Morningside has been the perfect school for her to carry out both passions.
"I love Morningside because I am able to cheer and continue my passion," she said. "Morningside's small school vibe is also something that I enjoy, and I wanted to expand my horizons."
Rosa is currently majoring in nursing with a minor in psychology. After graduation, Rosa plans to continue her education at Morningside College, getting a Master of Science in Nursing with a focus in family primary care.
Rosa is a very active student at Morningside. She is one of two captains on the Morningside cheer team; a student ambassador; and a member of Active Minds, a mental health awareness group;  the Morningside Student Nurses Association, and Beta Beta Beta, the biology honor society.
"My favorite thing at Morningside is getting to meet prospective students both in my job as a student ambassador and through cheerleading and showing them all the great things about Morningside," Rosa said.
Rosa also loves being a captain for the Morningside cheer team. "My favorite thing about being a captain is helping the team become as passionate about cheer as I am and helping everyone to be the best that they can be," Rosa said.
On Dec. 1, the Morningside College football team beat St. Francis for the opportunity to advance to the national championships. Rosa was cheering on the team during the game, and she will travel down to Florida with her teammates to cheer on the football team.
"It means the world to myself, and the girls on the cheerleading team, to be cheering for a winning team like the Mustangs," she said. "It is an amazing opportunity to travel to Florida and get to witness the Mustangs play at the national level."
By cheering at Morningside and being a captain, Rosa said she has been able to gain a family. "Being able to go the football games on Saturday and cheer on the team, as well as getting to compete at surrounding colleges, has been a great experience."
She is so excited for her Morningside family to have the opportunity to go to nationals.
"The opportunity for the football team to be able to play at nationals has been a long time coming. The boys have worked so hard. To finally push past that threshold is a really amazing experience for them to have. It is also amazing for the cheerleading team to be able to cheer them on and for all the fans, family members and prospective students to see what amazing experience they can have at Morningside."