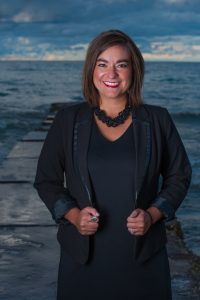 Jonalee (Jackes) DeNoble got her dream job. She creates luxury experiences for guests at a five-star resort in Kohler, Wis.
"Dreams come true," said the 2009 Morningside graduate. "Three years ago I married my amazing husband, Jared. We recently moved to Wisconsin and absolutely love it.
"I started as a senior meeting and events coordinator at The American Club by Destination Kohler and just accepted a promotion and am now the associate director of meetings and events. It's an amazing property, and I know that I wouldn't be here today without the education and connections I gained while at Morningside! And for the golf lovers, we are looking forward to hosting the Ryder Cup in 2020!"
During her time at Morningside, DeNoble was a double major in corporate communication and advertising with a minor in business. She worked in admissions, was on the dance team, was vice president of student government, was president of the Morningside Activities Council, and was a member of Omicron Delta Kappa leadership honor society. Additionally, she played intramurals, participated in the Into the Streets campuswide service day, and had a radio program on KMSC where she was known as "Jukebox Jonnie."
"If you calculate all of the activities I was involved in with at least one T-shirt a year, you do the math, I have a full closet," she said.
DeNoble especially loved working in the admissions office.
"I worked in the admissions office all four years and loved my time with my soul sister, Char," she said. "I also loved giving tours and having 'future Morningsiders' stay with me on Scholarship Weekend!"
She said her favorite thing about Morningside is the people.
"The best friends I made along with my professors," she said. "I knew that they were truly invested in my future, and it was a major motivator. I also can't forget the amazing kitchen crew, the admissions team, random coaches, faculty and the housekeepers! They all were truly amazing, genuine people and quickly became my second family."
DeNoble's advice to current students is to invest in their future.
"You took the first step of joining the Morningside family, but go beyond that," she said. "I always encourage everyone to get involved, but with that invest in yourself. The connections you make are lifelong. A connection you make could be your future spouse, your future boss, your future best friend, your future president, the future bridge to your dream job. Get involved and invest in your future, but don't forget to have fun along the way!"
DeNoble encourages young alumni to do the same thing.
"I would encourage the same thought process as above; invest in your future," she said. "The amazing students at Morningside are going places and why not help them in their future, which is also our future. The connections may be different, but think of the doors that could be opened. I am so thankful for those that not only have invested in me, but encouraged me along the way. It has shaped me into the successful woman I am today. Be that person for a young Morningsider."
DeNoble is grateful for the lasting impact Morningside has had on her life.
"Thank you to everyone who has encouraged, supported and invested in me while at Morningside and beyond. It was four years of my life that I will always cherish. I look forward to seeing the amazing talent that comes from Morningside! Go Mustangs!"