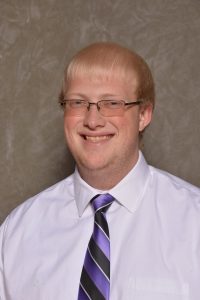 Kyle Kommes is a senior at Morningside College from Le Mars, Iowa, with many passions, especially accounting and sports. He said Morningside has been the perfect place to pursue his passions.
"When I visited a university, I felt like I was only a number," he said. "I knew I was much more than that, and Morningside made me feel unique. Everyone on campus knows each other by name. Everyone who I have met has been extremely friendly, and the faculty and staff at Morningside truly care about each student succeeding."
Kommes is a public accounting major with minors in sports management and religious studies. He said he chose Morningside because of the ability to be involved in so many activities.
"I wanted to go to a college that had a bowling program," Kommes said. "I also was interested in being a student coach and a choir member. Being able to do all the things that I dreamed of doing in high school is the reason that I chose to attend Morningside."
Kommes is a very active student who takes every opportunity to get involved. Currently, he is the president of Omicron Delta Kappa, a leadership honor society; a member of the men's bowling team; a student assistant coach for the men's basketball team; treasurer of the Morningside College Choir; the accounting club's social media executive; and an accounting department peer mentor.
"I am involved in a ton at Morningside, and the best part about all the groups that I am involved in is how supportive they are of me being involved in other activities," he said. "They are all willing to let me schedule enough time to make an impact on all of my groups and are allowing me to be this heavily involved."
Since public accounting is a five-year degree, Kommes will graduate in May of 2020. After graduation, he plans to work at an accounting firm in either Le Mars or Sioux City and would like to become a certified public accountant. He also would like to coach high school sports.
"I am truly thankful and blessed that I chose to attend Morningside," he said. "Everything I have experienced here will be a great story to tell my friends and family later on in my life. I would recommend Morningside to anyone who wants to feel welcome and involved."
The URI to TrackBack this entry is: https://wordpress.morningside.edu/alumninewsletter/2018/09/10/student-spotlight-kyle-kommes/trackback/