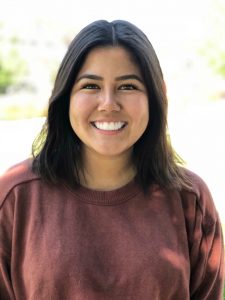 Zulema Alvarado is a junior at Morningside College from Sioux City, Iowa who chose Morningside because of the strong academic program and her familiarity with the college. 
"One reason I came to Morningside was because of my friends," she explained. "They showed me bits and pieces of campus and it caught my attention. The other reason I chose Morningside was the psychology department. They were very engaging and had lots of opportunities for me to expand my horizons."
Alvarado is a counseling and developmental psychology major. She said she likes the personal connection with professors on campus.
"What I like about Morningside is the one-on-one connection with your professors," Alvarado said. "They are always there to help you and want to get to know you more."
Alvarado is an active student on campus who takes every opportunity to get involved. Currently, she participates in MAC, the Morningside Activities Council; the Connie Wimer Women's Leadership Program; and Morningside Choir. She is an Orientation Student Assistant, a student ambassador for the admissions office, and a leader in the Student Success program.
"My favorite part about being a member of these organizations is getting to know people," Alvarado said. "I like meeting new people and getting to know them because there's a possibility you might start a new friendship."
After graduation, she plans to attend graduate school at either the University of South Dakota or the University of Nebraska Omaha for social work.