by Rachael Arnts–On Wednesday evening (Nov. 30) ten Morningside students were inducted into the Morningside chapter of the Sigma Tau Delta (STD) English Honor Society.
To be eligible for the honor society, the students must have completed at least 12 credit hours of upper level English courses with an average 3.0 GPA.
This year's inductees were Allison Agee, Kristen Brown, Amy Carothers, Mattie Carstens, Zachary Hutchison, Tyler Nordstrom, Abby Maldonado Salguero, Lindsey Smith, Christina Vazquez and Noah Wieseler.
Besides being an accomplishment that the inductees could put on their resume's, students joined simply for their love of the English department.
"I wanted to join STD because I feel like the society is one big family and I would find meaningful connections with other people who appreciate English like I do," said Lindsey Smith. "I hope to learn a lot from my fellow members and to become more involved in the community through STD.
Mattie Carstens joined for similar reasons. "I joined STD because I love literature and believe in supporting those who want to create more literature," stated Carstens. "I want to have a safe place to go to share my works."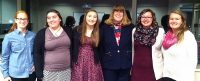 The evening began with a meal prepared by STD officers. Marty Knepper served as the guest speaker for the evening. Knepper's speech was proceeded by STD officers initiating the new members. Senior officer Ellie Freebern was recognized as well for graduating in December and heading off to medical school in the near future.
Marty Knepper Returns
Recently retired Morningside English Professor, Marty Knepper was the guest speaker for the evening.
Students were very excited to see Knepper on campus again. "I thought it was great that Marty was invited to speak," commented Smith. "I feel like she brings a lot of energy to a room whenever she speaks and I've really missed her here on campus."
Carstens enthusiastically added, "It was incredible having Marty back! Being able to see and talk to her was the highlight of my week!"
Knepper delivered a speech that stressed the importance of writing and how it can benefit our lives.  She emphasized two main points for the new and current STD members to consider. The first was to keep a journal about their transitions from college to the workforce. The second point was to talk to peers that are a few years older and ask them how they ended up with their current job position.
Knepper was also presented with the Meritorious Service Award for her continued devotion to students after retirement. "I'm just about out of wall hanging space!" exclaimed Knepper as she accepted her surprise award.
Congratulations to all who were honored at the Sigma Tau Delta ceremony.