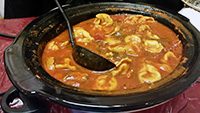 by Rachael Arnts–Morningside's chapter of the English Honor Society, Sigma Tau Delta (STD), was "soup-er" excited to kick off this year's Cup of Soup fundraiser on Halloween.
The menu featured homemade tomato basil tortellini, zuppa toscana, creamy potato, chicken tortilla, and chili. Also, bread and butter beer fudge were offered.
Hungry customers commented that it was a good day for soup because of the "chili" fall weather.
"The appeal is definitely a nice homemade meal," said STD Vice President Allison Linafelter. It is another option besides going to the caf or having to buy something somewhere else. People just really like soup.
A total of $240 was made in the two-hour time-frame.
"The money from this sale is going towards funding students for the Sigma Tau Delta Conference in Cincinnati," said STD Co-President Heather Eisele.
"It [soup sales] helps our organization and people are very generous with this type of stuff," Linafelter added.
The two officers were very excited about the fact that the first soup sale of the year fell on Halloween.
"I was so excited that this was on Halloween. Being able to dress up makes it more fun!" Eisele exclaimed.
The next STD soup sale will be on Tuesday, Nov. 14, from 11 a.m. to 1 p.m. on the first floor of Lewis Hall.