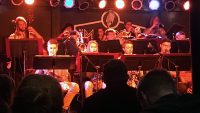 by Lindsey Smith–The Marquee in downtown Sioux City burst with music Monday night as the Morningside Jazz Ensemble performed for a full house.
The group is focusing on raising money to go to the Elmhurst Jazz Festival in Chicago which would be an opportunity for them to show off their skills in front of other talented Midwestern bands.
The group played a range of jazz styles from old songs like "Body and Soul" and "Rock a Bye River" to contemporary hits like "Two Seconds to Midnight."
While the bar stage was small, the group of 12-15 musicians filled the room with sound from the full singing voice of Shaley McDermott to the soulful solos of Dylan Root on tenor sax.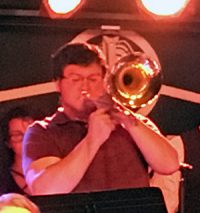 Every table was filled and there were people standing by the bar as the group performed for two hours straight.
The musicians didn't mind the packed house though, like trumpeter Matthew Stogdill. He says, "It's my first time in The Marquee but my favorite part is just the music we make and letting it all flow, making music for people."
The Morningside Jazz Ensemble will once again perform on November 9 at 7:30 p.m. in Eppley Auditorium