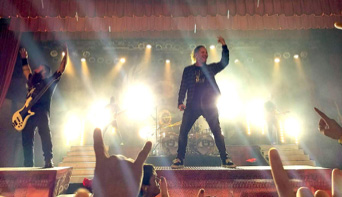 by Sara Alexander–Stone Sour rocked Omaha Sunday night as their first official stop of a world tour promoting their recently launched 6th studio album, Hydrograd.
The Des Moines-based hard rockers were joined by 80's glam rock parody band, Steel Panther. The sold-out event took place at Omaha's historic Sokol Auditorium, an intimate venue with a capacity of 1,500 people.
Steel Panther warmed up the crowd with loads of sleazy tunes that poked fun at 80's hair metal bands like Mötley Crüe, Poison, Van Halen, and more. The band's hour-long set featuring songs like "Death to All But Metal" and "Party All Day" left fans thirsty for more.
Stone Sour began its set fueled with energy playing "Taipei Person / Allah Tea," one of the many songs on Hydrograd featuring clever wordplay (Type A personality). Fans were then treated to the live debut of another Hydrograd song, "Knievel Has Landed."
The rest of the setlist featured a mix of songs from all six of the band's albums, including "30/30-150," a fan favorite and set staple, as well as "Cold Reader," a song not played live by the band in 15 years.
The audience proved to be just as receptive to the band's new material as to early hits, which could be attributed to Hydrograd being an excellent and well-rounded masterpiece of an album.
Stone Sour frontman Corey Taylor brought next-level energy throughout the show; with his flawless vocals, a neck made for headbanging, encouragement of moshing, and a giant confetti gun, there was never a dull moment.
Although in Nebraska, the crowd cheered with Midwestern pride and support for the second most successful rock band to come out of Iowa (the first being Slipknot, also started and led by Taylor). As Taylor put it, "This is the best of the f***in Midwest!"
Stone Sour will continue touring worldwide to promote Hydrograd for the rest of 2017 and into 2018.