(02.14.2017) By Tabatha Storesund — The 45th annual Morningside College Jazz Festival was held February 1st through the 3rd in Eppley Auditorium, incl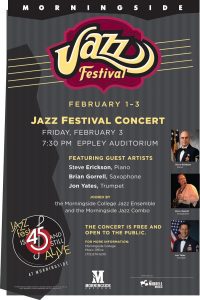 uding over 38 bands from Iowa, Nebraska, Minnesota, and South Dakota.
Professor Tony Hutchins is the man behind all preparation for the festival.  He says, "I plan the festival a year out which involves hiring guest artists and adjudicators first.  Then the sound engineer, followed by sending out emails and snail mail to a four-state area."
The Jazz Festival aims to take place annually, but there was once a period of time when the festival was not taking place.  When the Jazz Festival came back to Morningside College in 2011 under the direction of Dr. Lambert, it became an annual tradition.
Professor Hutchins says, "Since I came on board as the Director of Instrumental Jazz and Low Brass in the fall of 2012, it has grown under my leadership from a two day festival to a three day festival, starting with 16 bands and this year having 38 bands in attendance."
Professor Hutchins also says, "High School bands start preparing for the festival in October and November."  This gives the high school bands four months to prepare for the Festival.
The high school bands prepare for a long time because, according to Professor Hutchins, "Morningside's Festival is a State wild card qualifier for the Iowa Jazz Championships.  Meaning, if you get first or second place in each class, you automatically get a bid to have the chance to compete in the State Jazz Competition."
Professor Hutchins also brings in a few of his Jazz students every year to help him run the festival along with other faculty and staff.
According to Professor Hutchins the Jazz Festival "is a big deal".  This year, Professor Hutchins and the people helping him made the Jazz Festival "another success."