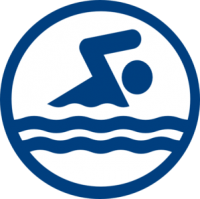 By Alyssa Nehring–The Mustang Swim Team participated in the 11th Annual Ted Mullin "Leave it in the Pool" Hour of Power Relay on November 7.
The Hour of Power was started at Carleton College after Ted Mullin, a member of the swim and dive team, passed away from sarcoma in the Fall of 2006. The Hour of Power was created as a fundraiser for Sarcoma research in Ted's name. Sarcoma is a rare soft tissue cancer that can be found in the bones and connective tissue, such as fat or muscle.
Bryan Farris head coach of the Morningside swim team has believed in this event since it was passed down to him from the previous coach, "Hour of Power is a worthy cause and a great service project for the time." Farris asks his swimmers to bring 5 dollars to donate to the Ted Mullin Fund.
The relay has quickly grown from 15 teams participating in the first year to over 170 teams and more then 8,000 athletes nationally and globally on both swim teams but also dry land teams.
The fundraiser consists of continuous relays, all-out swimming, any stroke, for one hour. All participating teams start their Hour of Power on November 8 (or what works best for the team) at either 4pm or 5 pm (depending on time zones). The idea is to do the hour together with the goal of keeping all relays in each lane on the same length.
The Hour of Power in its last ten years has raised $630,000 for the Ted Mullin Fund for Pediatric Sarcoma Research at the University of Chicago Medicine Comer Children's Hospital.