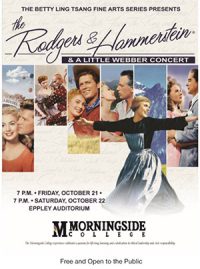 By Jaden Lux–Morningside College will be presenting musical selections from Rodgers and Hammerstein and Andrew Lloyd Webber on October 21 and 22 in Eppley Auditorium for free.
The Rodgers and Hammerstein Concert will include a 30-piece orchestra under the direction of Dr. Sean Burton, department chair of music at Briar Cliff University. Along with Burton, Shannon Salyards-Burton, vocal professor at Morningside and BCU, directed the ensemble numbers in preparation for the show.
Many Morningside students are involved in the elaborate production, but Morningside faculty, community members, and professional musicians are taking part as well.
"It's such a wonderful mix of everyone's favorite R&H songs," said Sarah Holman, a graduate of Morningside's graduate program in education. Holman used to be a member of the group Rockestra that performed regularly at the Orpheum for thousands.
Rodgers and Hammerstein shows have a special place in her heart. "South Pacific is the first show I ever did and it brings back such fun memories of learning the old tunes that go with it. [South Pacific] has a special place in history and it's still relevant today," Holman adds.
Holman will be performing a number of selections during the concert.
Jori Ellenbecker, a junior biopsychology major and avid singer, has a wealth of positive things to say about the production she's taking part in as well.
"I think it is a brilliant combination of brilliant work by brilliant composers. I was not expecting as much work that it entailed, but it did take a lot, and it was really nice when everyone came together," Ellenbecker explains.
Ellenbecker, who performs regularly in the music department at Morningside, is excited for the rare opportunity to sing with such a full orchestra. "I really love the opportunity to sing with an orchestra, it's pretty epic. It's not very often that we get to do this," Ellenbecker adds with excitement.
The concert runs about 120 minutes with one 10 minutes intermission. The orchestra and vocalists will be performing a variety of music from shows such as Carousel, South Pacific, State Fair, and Evita. All ages are invited to come and enjoy a free night of entertainment.