By Jescy Rodriguez — "For me, music is a stress reliever and it's a great way to express yourself when you can't find the words to say or when you have something going on in your life," explains Michael Oetken, 22, local talent and senior.  It's not exaggerating in the least bit if you were to say he's done it all during his collegiate career.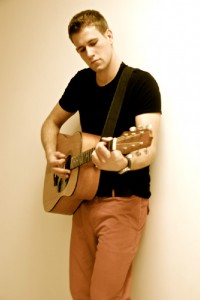 Scholastically Oetken is accomplished. Oetken will be completing a double major in Business and Biology this May.  He is also a member of two national honor societies: Beta Beta Beta, the Biology Honor Society, and Omicron Delta Kappa the National Leadership Honors Society.  He is also a part of Morningside's Singing Men, who perform at various events such as Christmas at Morningside. Oetken has also been part of Mustang athletics. He played basketball on campus during his freshman and sophomore years.
Oetken's singing career started when a high school choir teacher urged him to try out for a musical.  After that Oetken developed an interest in playing piano.  The interest in piano then translated into a knowledge of music and a curiosity towards guitar for Oetken.  Combined with his vocal talent, his instrumental styling make for quite the musical display.
The Morningside Theatre Department's production of Grease was Oetken's debut on the stage in college, but he is certainly no stranger to the spotlight.  Oetken had previously been in a production of Grease for his high school in Akron, Iowa. For Morningside's Grease, Oetken played the lead role of Danny Zuko which he also played in his high school show.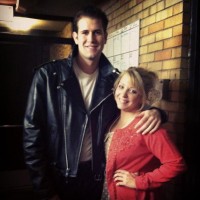 "Grease was an amazing experience.  It was a great way to have tons of fun and get close to a great group of people," Oetken said.
During rehearsal, Oetken was a big part of the leadership on the cast. Junior Nancy Seeman got the chance to work with Oetken on the set of Grease playing the role of Sandy Dumbrowski, Danny Zuko's love interest.
"Mike and I have been friends since freshman year, so getting to work with him as Danny was great. He is such a leader and a hard-worker. He always knew how to get the group to connect and have a great time, while still getting work done," Seeman Said.
Aside from all of his scholastic and extracurricular activities, Oetken is also working on his singing career.  With his website serenadesound.com, Oetken has created his own "singer for hire" business and is always getting booked to perform at weddings, reunions and all other sorts of events.  On occasion, Oetken sings for his church, Trinity Lutheran in Akron.
"Michael Oetken has sang numerous times over the years at our church. Each and every time, it has been an incredible blessing. Michael is not only a tremendous vocal talent, but he is a top notch professional. He is reliable, dedicated, and easily adaptable to the needs of any worship setting or special occasion. Michael's singing voice is smooth, powerful, resonant and flows with sincerity.  When Michael sings, he uses not only the instrument of his voice, but the instrument of his heart as well.  Michael is a true inspiration!" said Pastor Jean Morse of Trinity ELCA in Akron, Iowa.
He has already sung at over 12 weddings and currently tours local Sioux City venues such as Elden's and 5th street Irish pub McCarthy and Bailey's.
Oetken's performances at McCarthy and Bailey's easily fill the bar, which is standing room only.
"The bar is packed thanks in large part to Morningside friends and my family who all come down to watch me and support my singing and playing.  I'd like to thank all of my friends and family for the support over the years and helping me get my name out there," Oetken said.
Oetken will be performing this Sunday at the Irish pub McCarthy and Bailey's for St. Patrick's Day from 4pm-7pm.  Underage are allowed in the bar to enjoy the music and food.
Mike Singing The National Anthem
He has bookings for several weddings and reunions over the summer, but it's not too late to schedule Oetken in for your own special occasion.  His services can be accessed via his website, www.serenadesound.com, or you can email him at MikeO@serenadesound.com.