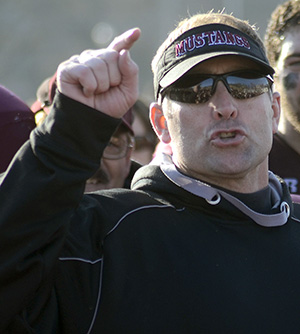 By Darius Hicks–Following the best season in program history, the Morningside football team is looking to return to Rome, Georgia, and the NAIA football championship.
It will not be an easy task. The Mustangs have to replace 11 seniors, eight of whom earned all conference honors, and one all American.
So how do you replace players who were so significant to your programs success? The answer seems to be transfers.
The Mustang coaching staff has been working hard in recruiting and landed a total of eight transfers who they feel can help fill the void of the seniors lost.
"We have some guys that can come in and contribute right away," said head football coach Steve Ryan. "Were working hard this off season, and have guys that are willing to come in and do everything we've asked. Experience is the hardest thing to replace; we've added a few guys who have proven themselves not only on the NAIA level but also the FBS level as well."
The Mustangs welcome a trio of players from the university of South Dakota: Darrius McMullen (DL), Chris Frierson (CB), and Kyle Erickson (CB). Other players joining at semester were Tyrek Robinson (WR), Cody Marsh (S), Dirk Schmitt (LB), Nathan Gellegan (RB) and Ross Arkerman (QB).
Among these players, Fryerson, a Florida native, is one the coach's feel can have an immediate impact on the program.
"Frierson is a very athletic kid, he has tremendous speed and the ability to be a shutdown corner, we feel he can help us not only with his field play but also a leader as well," said Ryan.
Expectation are high for the football team as they begin winter workouts and eventually spring ball in early March for another successful season.
"We're excited about what the future holds for our program and feel we have the right guys to finish the job in Rome."