Rebos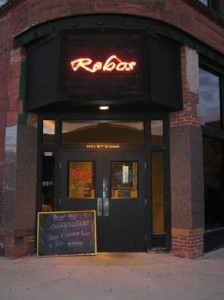 There is no telling what kind of food a wrestler will devour after the wrestling season. I feel like consistency is not the key and we will always try to eat everything we had in mind during the actual season. One type of food that I have always been curious about trying is Caribbean style. I was excited to hear that on our list of restaurants to explore was Rebos. I have heard quite a bit about Rebos from some students, but that is another story. Rebos is another popular restaurant on Sioux City's famous 4th street. It provides a unique blend of Caribbean and Mexican food. Walking into the restaurant you immediately notice is the dimmed lighting and a large quantity of creative murals to admire painted on the walls. The waitress that served our large group was on her A game being on top of every order. Her and along with the other staff members provided excellent service.
I started off with a cherry coke and then we decided to share some appetizers at the table. As we sample I discovered that I really enjoy eating humus. The other classmates thought it was good to and we were practically fighting over it. But just like any other prideful wrestler, I got the last bite. We also had a platter with some sort of teriyaki chicken that made my mouth water for days. The person next to me took a bite of it and had the expression of "wow".
As a wrestler my eyes are always open for a large order of food. There was a large variety of things to choose from on the menu but it was no surprise when I decided to order the huge beefy burrito. I would soon realize that my stomach was outmatched by the serving size of this big ass burrito. There was no need to break out the measuring tape I just compared it to the size of my forearm. It was almost a mirror image and was slightly overwhelmed from the previous orders of appetizers. But even without eating the appetizers I will have to admit that finishing the large order of burrito was going to be a difficult task for even the hungriest wrestler. This was by far the biggest size food portion laid in front of me on our eating souix land quest.


I ended the evening with a full belly and satisfied taste buds. This was the only restaurant where I had to insist on asking for a to go box. I don't have any complaints about this restaurant other than when you walk back outside you better be prepared to be blinded by the daylight. It is pretty dim in there. But the food and service was great and I enjoyed my time there. I recommend Rebos to anyone that likes good Mexican and Caribbean food. Whenever I decide to go back I would like to explore their bar more.