El Tapatio
Our eating adventure continued on Gordon street seating at El Tapatio. El Tapatio is famous for their great Mexican food. This is a small joint that provided a nice calm atmosphere to enjoy a well cooked meal. Our group enjoyed the diversity of music in the restaurant. This was of course Mexican music. I liked the overall theme of the restaurant.
I started my meal off by sharing chips and salsa with my classmates. It is trend that you normally see at a Mexican restaurant. We also decided to change it up and order a cheese dip along with our basket of chips. It looked like your typical cheese dip until we bit into it. The warm goowy flaver enriches your mouth but it also included a hint of spice that wouldn't over power the taste of the cheese dip. My transition to thirst was soon quenched when I decided to order a simple Coke.
The menu display of the main menu quickly captured my eye with a variety of options to choose from. I was debating on order your traditional burrito surved with Mexican rice and beans, the steak and shrimp, or the item on the menu that our class decided to call "the tower of meat". All sounded good but I ended up choosing the steak and shrimp seeing that the first option was too traditional and the third option was chosen my several other class members. So I wanted to sample something different. I was at a surprise to see our food quick to come to our table because we had such a large group. When it did, I laid my eyes on a medium cooked steak, Mexican rice, and huge pieces of shrimp on a stick. The steak had quite a bit of gristle on the outer layer but the way it was prepared made up for it. The best part of meal would have to be the shrimp. They were relatively big portion sizes that provided a full me with a full stomach. The shrimp also had a kick to as if it was marinated in some sort of spice. It wasn't hot but it had a lot of flavor to it. I also enjoyed mixing in the Mexican rice with my meal it added a good texture to the meal.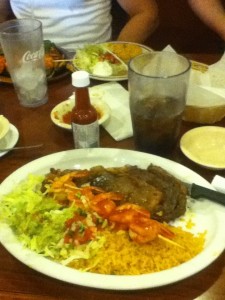 I had an overall good time at the restaurant. It was a good environment to have a few laughs with friends and enjoy a good Mexican meal at a reasonable price. This is a place that I see myself going back too more often. This is mainly because it is relatively close to the college and it is affordable for any college student. When I go back I would like to try this supposed tower of meat. When observing my classmates order of this I noticed it had a variety of different meats. Either that or I will go for the traditional burrito. I enjoyed my time at El Tapato and recommend it for anyone in the area.