Da-Kao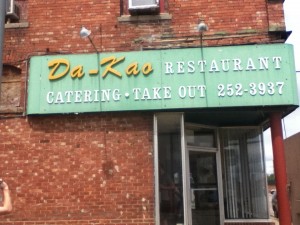 Today our crew was introduced into a different cuisine. The restaurant of choice today was Da-Kao and they are well known for their Vietnamese meals. Da-Kao also provides Chinese on their menu but I'm not sure why anyone would want to eat certain foods out of the popular demand of what the restaurant cooks. That's like ordering a cheese burger at a seafood restaurant. It's just not right. I encourage everyone to step outside of their comfort zone and eat something that incorporates the restaurants specialties.
I started my meal off with a few appetizers. What wrestler wouldn't help themselves to the meal before the meal during the offseason? My beverage of choice to start this of was a Coke, but after the funny look from my waiter and then realizing that they only have Pepsi products I just asked for a Pepsi. I ordered an egg roll and two cream cheese wontons. Each appetizer was served with sweet and sour sauce on the side. These are very familiar snacks that I use in my offseason diet, but I wanted to make sure that I had a Vietnamese meal as my main course. I felt like the cream cheese wontons were more filling then the typical one I would order from a typical take-out joint, which was great for me because I always have a hell of an appetite. I couldn't even take the picture of the egg roll before trying it. It was much juicier than one's I have had in the past. I tried each of them with the sweet and sour sauce but I came to conclude that I'm not a sweet and sour sauce fan.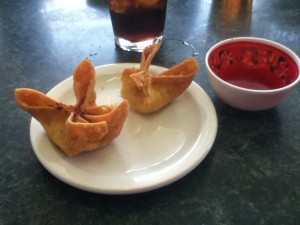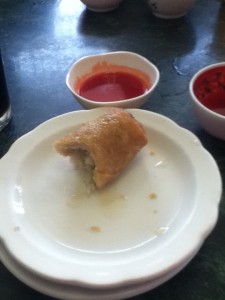 This class is all about stepping out of your comfort zone and trying new things. Like I said earlier, I really wanted to experiment Vietnamese food, so I decided to order the egg noodle soup with roasted duck, but according to the waiter that was tending to our group it was the "number 14". When my food was brought to the table it was a big bowl of soup mixed with a large amount of egg noodles and random pieces of roasted duck. It also incorporated a variety of green vegetables. The egg noodles were much thinner then I imagined that they would be and I found it challenging to put an appropriate portion on my fork, but it was still pretty good. The roasted duck had a very familiar taste to it. It reminded me of the dark meat on a turkey. Although I enjoyed the flavor of the meat, I would much rather save that taste for Thanksgiving. What I appreciated the most about this dish was that the broth of the soup didn't over power the taste of the roasted duck and the egg noodles. I was also surprised on how filling this over all meal was, and as a wrestler out of season it is important that I leave the table full.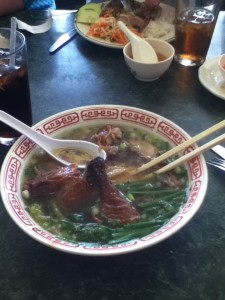 The personality of the staff was fun and I enjoyed the experience. I recommend it to anyone exploring food outside of their normal comfort food.