Tokyo Japanese Steak House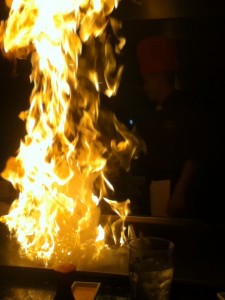 Today we decided to heat things up at the Tokyo Japanese Steak House in Sioux City. This was a warm and welcoming environment from exterior and interior layout of the restaurant. This Japanese steak house comes with the concept of diner and a show. If you are not familiar with the layout of the restaurant the tables you dine at surround the grill where very skilled chefs prepare your food. So if you are ever paranoid about restraint workers doing something sketchy to you food I recommend this place because they prepare your meal right in front of you. I have never been a fan of the food channel of chef's just cooking food, but Tokyo has added a twist to the cooking experience as they use it as a source of entertainment.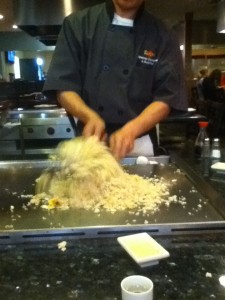 Our grouped arrived during the lunch and it was very peaceful, so if you enjoy this restaurant but want to come when it is less crowded I recommend the lunch hours of the day. I decided to order the two choice lunches special which allowed me to pick two different meats to add in with my fried rice and mixed vegetables. I decided to experience something new and order the swordfish with my course. The best way I can describe the taste of swordfish is as if you were biting into a piece of pork with fish like texture. It was very interesting and now I can say I have ate swordfish. My second meat was not as bold and I decided to stay with something that is more familiar such as the filet mignon. It was rich and full of flavor, and cooked just the way I like it. The combination of the fried rice, steak, swordfish, and mixed vegetables complemented each other very well. The restaurant is also famous for their signature sauce which is referred to as "Yumm Yumm Souce". It was so good I decided to dump the entire sauce plate onto my meal versus dipping little bites into it. The signature sauce was so good, I asked for some to go.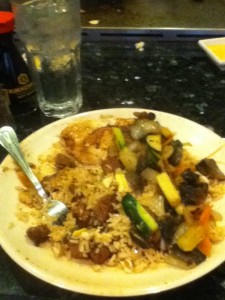 I am glad to have brought my appetite today because it ended up being a massive amount of food. It was very filling but just like any other off season wrestler there was no guilty conscious for asking for dessert. I decided to split a dessert with some fellow classmates and we decided on having the fried ice cream. I am new to the world of fried ice cream and I had a hard time imagining what it would look like. When it came to our table it appeared to have a moist fried coating around a ball of chocolate ice cream. I was in heaven.
This is one of the top contenders in restaurants that have visited in this Eating Sioux Land course. I can't find a reason why I wouldn't go back except the price of the menu for a typical college student. But looking back at it, with the entertainment from the chef, productive service from the waiter, and the great food provided it was well worth it.