Red Bones Café
Typically, the first thing that I always like to eat after a wrestling season is some of my mom's homemade southern cooking down in Georgia, but I have recently found a more convenient place to travel to satisfy those cravings. The Red Bones Café is the only place in Sioux City where you can find food for your soul. The owner of the restaurant has brought the southern cooking tradition of "soul food" all the way from Tennessee to Sioux City Iowa. This a great opportunity for anyone that lives in the Mid-West to experience a taste of some southern comfort food.
It was hard to decide on what I was going to order from there menu. They offered a good variety of common foods that I was used to seeing back home. I knew you couldn't go wrong with the choice of southern fried chicken and some sweet tea. On my plate laid two pieces of fresh fried chicken, mac and cheese, black eye peas, and some good old fashion cornbread. This was of course accompanied with the fresh beverage of sweet tea. The view of this meal would leave any southern mother satisfied that there baby is well fed.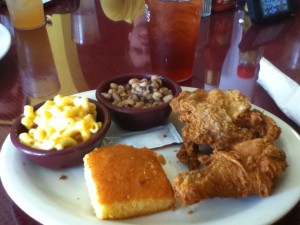 Before my plate was laid on the table I couldn't help but notice the odor from the fried chicken that just made my mouth water. The first bite of that fried chicken yearned my taste buds for more, and before I knew it I was eating the bone dry. The cornbread was very moist and complimented the fried chicken and sides very well. I ended up mixing my black eye peas and mac and cheese together making and ultimate southern side concoction. The meal all came together when I could wash all the food down with some sweet tea.
Not only is the food great but so is the service. I felt comfortable talking and having a conversation with the waitress just as if I have known her for quite some time. While observing the prices of the meals there I noticed that it was very affordable and gave generous proportion sizes within the meal. Despite the outer portion of the restaurant, it had a warm and welcoming atmosphere. The walls were red and the hard wood was more of a tea stain brown that gave it that country welcoming texture.
Growing up in the south we were raised believing that it was an insult to not clean your plate after someone cooked you a homemade meal. But with the food being so good, I didn't have to worry about leaving leftovers on my plate.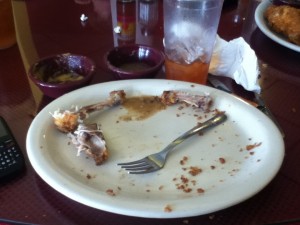 If you are looking to explore a different type of your ordinary food then I would highly recommend experimenting with southern comfort foods. I believe Red Bones Café is the place that will satisfy those cravings. Now knowing that my mom's home cooking is just on the other side of town I will be going there more often.