House of Q
After a long and exhausting wrestling tournament our priorities quickly transition from winning your matches to consuming a massive amount of food. In the moment we tend to put a good quantity of food on our plate versus taking the time to search for tasteful quality. During the process of "cutting weight" in wrestling season I find myself hard to not fantasize what I would like to eat after a tournament or even the season. This offseason I have taken the opportunity to take a May term course that will help me create these food fantasies into a reality.
The first place I would like to talk about is the "House of Q". This restaurant doesn't need a big and flashy sign out in front of it for anyone to know its location. Word from the locals and its reputation alone will tell you where it is. The "Q" has a reputation of some good old fashion barbeque and having their customers leaving happy and full.
Entering the Q parking lot I immediately noticed the rich smell from the barbeque being cooked in the kitchen. As I walked inside the building I realized that it was a nice calm environment where everyone can enjoy there meal. I have been told that students and faculty from Morningside College often come down there to enjoy a meal and continue their studies or paper work. They also provide free Wi-Fi so it makes it that much more convenient to complete an assignment and turn it in online.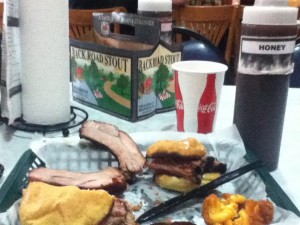 During my time at the House of Q I decided to order the "Carnivore Platter". Seeing that I was going for the combination of quantity and quality I thought this was appropriate order to satisfy my hunger cravings. This also allowed me to sample a variety of what they have to offer at the House of Q. This platter contained a small rack of ribs, pulled pork, and brisket on a bun. The bun helped target the meat within the sandwich emphasizing pork or beefs flavor and left a sweet after taste making you crave another bite. The combinations of each food provide me a full stomach with satisfied taste buds.
I was a big fan of their signature sauces. My favorite was the honey barbeque flavor that put just the right amount of sweetener in your food. Besides the honey flavor I sampled all of the other sauces that will add a kick to your meal.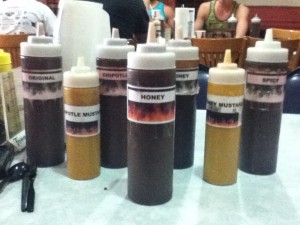 One thing that I always like to sample in restaurants in the northern area of the country is there tea. I am from Georgia and if there is one thing that you will always see at a restaurant down in that territory is "sweet tea". What I have found is the further north you travel, the less sweet the tea. In the northern portion of the country it is typical to drink iced tea versus in the southern areas it is a norm to drink sweet tea. I was in shock to finally have found a place to satisfy my need for some southern comfort. The tea was so good, I even mad a cup to go.

I thought this was a great place to eat. It satisfied my taste buds and I left full. My classmates were talking about coming back more often as we were eating our meals.