Sep
17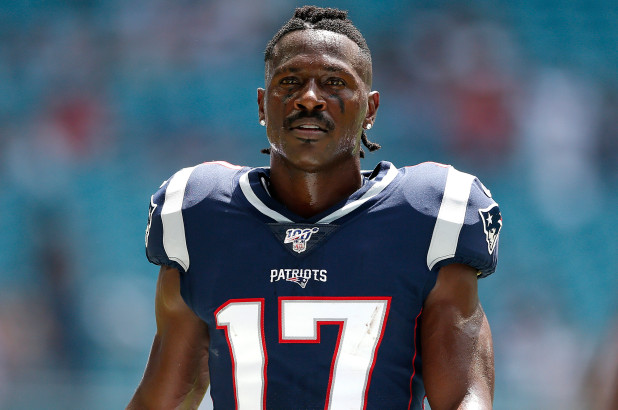 Former Steelers wide receiver signs with Patriots after publicly sharing his frustration about Raiders organization, which released him three days ago without playing him for a single game.
By Okan Golge
Just a few hours after his release by the Oakland Raiders, Antonio Brown signed with the New England Patriots on a one year, $15 million deal. Even though experts expected that move by the Patriots, the entire league was surprised with the pace of the finalization.
The reaction to this signing was mixed with a lot of officials criticizing Brown. According to cbssports.com Brown's actions in the last months disappointed people who he looked up to throughout his whole career. CBS reported, that NFL legend and former raiders player Jerry Rice told 95.7 The Game, "We all got played [by Brown]," and Rice added, "He contacted me, he told me that he wants to play here in the Bay Area. I bought into it…, but I think [signing with the Patriots] was already planned."
ESPN's Adam Schefter and Chris Mortens reported that the New England Patriots already tried to acquire Brown last summer with a first round pick while Oakland was only offering third and fifth round picks. However, the Steelers still agreed with the Raiders to avoid making the reigning NFL Champions more versatile.
People like Rice were especially disappointed, about the way that Brown's journey went over the past months. ESPN outlined that Brown spent a lot of time away from the raiders too, because he arrived to training camp with frostbite on his feet, and publicly requested to wear a helmet which is not legal in NFL anymore. Additionally, Brown had verbal arguments with general manager Mike Mayock and got fined many times this summer for a total of more than $215.000
There is an even amount of people who understand and support his decision. One of them being his Head Coach at the Raiders, Jon Gruden. The Huffington Post quoted Gruden on his press conference on Saturday,"… And I wish Antonio nothing but the best. I'm sorry that we never got a chance to see him in silver and black. … I really looked forward to coaching him…". Coach Gurden also added on ESPN's webpage, "I tell you, he's a good guy," the Raiders coach said. "He's misunderstood by a lot of people".
ESPN.com also mentioned in its article from Sunday," Brown finds new home, agrees to deal with Pats", that Patriots Quarterback, Tom Brady is fully behind the signing of Brown and even offered Brown to stay with him and his family until Brown gets settled in Boston.
Brown took his frustration to social media and shared his fines und phone calls that he had with the Raiders officials, with his followers on Instagram and Twitter. He also posted a video on Saturday morning. In that video Brown screams, "I'm free." after seeing that he was released by the Raiders.
After sitting out for the season opener of the Patriots (win against Steelers) due to the short notice signing, Antonio Brown will be fully eligible to play. Brown is expected to play his first game for his new team in their week two matchup against the Miami Dolphins on Sunday September 15.
Recently, Brown has been accused of sexual assault by his former Trainer, Britney Taylor. Brown and his management denied every single accusation and denied a settlement of $2 million . The NFL however will investigate, according to the Huffington Post article "Antonio Brown Makes Patriots Debut Days after Woman Accuses Him of Sexual Assault". Brown's attorney believes that this is a case of "money grab".
Sources:
https://www.cbssports.com/nfl/news/jerry-rice-says-antonio-brown-played-him-thinks-browns-signing-with-patriots-was-always-the-plan/
https://www.washingtonpost.com/sports/2019/09/07/antonio-brown-pens-latest-chapter-saga-tells-raiders-release-me/?noredirect=on
https://www.huffpost.com/entry/antonio-brown-patriots-debut-sexual-assault-allegations_n_5d7ef8bce4b03b5fc885e431?guccounter=1&guce_referrer=aHR0cHM6Ly93d3cuZ29vZ2xlLmNvbS8&guce_referrer_sig=AQAAADZdaDN-xfUfrnllj71_Hc5zWYBzYAM6QftAIAbasZlPr1Y5J38PcBXs2O763-fIUFFxDuR-fpqDN0jVR1QIefww8ZuRaMQOiildN_9SjESxE8YF4Aa0VLVsrJFgp-4KOMfbEC5ygj6hgtLDNPuGX_HGS4HEyPoB5IShVCmkJ_aA
https://www.google.com/url?sa=t&rct=j&q=&esrc=s&source=web&cd=1&cad=rja&uact=8&ved=2ahUKEwik9PjyhdjkAhXhmq0KHRQpC4YQFjAAegQIABAB&url=https%3A%2F%2Fwww.espn.com%2Fnfl%2Fstory%2F_%2Fid%2F27561787%2Fbrown-finds-new-home-agrees-deal-pats&usg=AOvVaw1c7FrCztcn9KESJZPdey1w
Comments