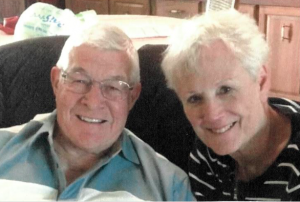 Dave Mulder came to Morningside College because he won the Band Day Scholarship in the spring of 1957. He had a wonderful experience at the college and went on to pursue a career in higher education.
Mulder majored in business education and physical education at Morningside while participating in baseball, basketball, Circle K – a service organization sponsored by the Kiwanis club – and LADS honor society.
In 1974, he was inducted into the Morningside Hall of Fame for his achievements in baseball and men's basketball.
Mulder said his favorite thing about Morningside was the people.
"I really enjoyed my time spent at Morningside," he said. "My favorite things included playing baseball and living in the dorms with my friends."
The 1961 Morningside graduate was a professor at Northwestern College, a small private college in Orange City, Iowa, from 1981 until his retirement.
During his time at Northwestern College he served as both a professor and coach. He earned an M.A. and Ed.D. from the University of South Dakota in 1966 and 1990, respectively, with further study at Oklahoma State University, University of Nebraska, and the Graduate School of Banking, University of Wisconsin.
Some accomplishments throughout his career include being named Northwestern College Professor of the Year twice and high school and college Coach of the Year in baseball and golf.
Mulder was as an Iowa senator from 2005 to 2008, serving on the agriculture, economic growth, education and human resources committees. He served as the ranking member of the education committee.
He is now retired and preaches part-time in area churches. He also sits on a few boards, such as Northwest Iowa Fellowship of Christian Athletes (FCA).
Mulder and his wife, Dorthy, have two children. His advice for current Morningside students is to take interesting classes and explore your options.
"Don't cut class, take some classes that look interesting to you, even pass/fail classes. Additionally, major in an area that will lead to a job you will enjoy doing, not based on money only because they can't pay you enough to do a job you don't like."
His advice for young alumni was to have your priorities set and support your alma mater.
"Your faith, your family, then your job or other interests and finally yourself should be the order of priority. Additionally, be proud of your college and support her!"
The URI to TrackBack this entry is: https://wordpress.morningside.edu/alumninewsletter/2019/02/07/alumni-spotlight-dave-mulder-61/trackback/
on March 9, 2019 at 12:00 PM Jon Cleghorn Said:

Congratulations, Dave, on a great career and an admirable life. Very best wishes as you continue to serve others and enjoy retirement.

on March 9, 2019 at 2:57 PM Bill Ver Heul (Dutch) Said:

Dave, great to read your story. Congratulations on a very
Successful career. Morningside, as you mention was a
great place to attend school. Have not been back for many
years, but still have many good memories. Hope this
finds you and family in good health. Bill Ver Heul, Dutch