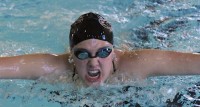 By Alyssa Nehring–Morningside swim team continues its season with a weekend full of swimming here at Morningside.
Friday night sees a dual meet against the Iowa Central Tritons and the Kearney Lopers at 7 pm. Coach Bryan Farris said the men's and women's teams are looking forward to this weekends competitions.
The Morningside Invitational starts Saturday at 12. There will be a total of eight teams including Iowa Central, Iowa Lakes, Augustana, College of St. Mary's, Kearny, Gustavus Adolphus, Nebraska Wesleyan, and Morningside. Tracy Gates, team captain says, "We are excited for the competition from the teams." Saturday will be a fast meet with a lot of opportunity for good races. Farris says, "Saturday will be a good day for everyone to race."
Farris always likes the team to swim a dual meet before the Morningside Invitation. "The boys are going to have a tough meet," says Farris. ICCC has a good men's team with talent spread throughout all of the events.
The women will also have a tough meet. However, Farris believes that the team has a good opportunity to bring home the win. "I believe our depth will help us overcome."
Kearney is a D2 school. The Morningside women's swim team hasn't defeated a D2 since  Farris has been coaching here. "The chance to beat a D2 school is a great opportunity for these swimmers," says Farris.
Come support the Mustangs Friday night at 7 and Saturday at 12 at the Morningside Pool.