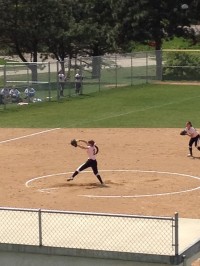 By Andrew Schnebel ~ The Mustangs softball team took on the Prairie Wolves of Nebraska Wesleyan Saturday afternoon. The Mustangs were wearing pink uniforms in support for breast cancer.
Jordan Johnson pitched the first game going all seven innings to pick up the win. She struck out a season's high 10 batters and did not allow an earned run. The Mustangs took an early 2-0 lead in the first inning, when Courtney Vaughn singled in a run. Then Kati Steffen hit a sacrifice fly.
The lead increased to 3-0 in the third inning with an RBI single by Mackenzie Neely. Those three runs would be enough to hold off the Prairie Wolves, as they tried to make a late run but couldn't do it as the Mustangs won 4-2.
In the nightcap, the Mustangs had their hands full with the Prairie Wolves starter. It was a pitching duel through all seven innings. Mustang starter Emma Remy went the complete game and gave up two runs. Morningside trailed all game until the bottom of the seventh when Shelby Feldt singled and came home on a double by Kirsten Dargy and then won the game when Taylor Michaelson singled to score Dargy. Dargy extended her hitting streak to 11 games when she singled in both games.
The Mustangs have eight games left in the regular season. They travel to Hastings, Nebraska for the GPAC conference championship May 3rd-5th.