Minnerva's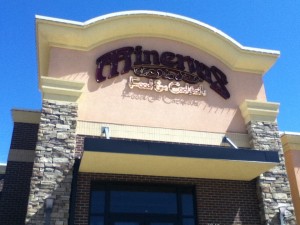 It is our last day of Eating Sioux Land and what better what to finish the series by eating at Minnerva's. This restaurant is well known for drink specials, fine dining, and variety of options on the menu. This is located on Hamilton near Briar Cliff College. We decided to go over during the lunch hour and enjoy drinks, appetizers, lunch specials and dessert.
I was about to start off with a typical cherry coke when I noticed another classmate ordering a peach lemonade. That sounded like it would really hit the spot so I changed my order. Then we ordered our appetizers. Like usual we ended up ordering all of the appetizers on the menu so we could share and sample with each other. I ordered the coconut breaded shrimp. The shrimp was much larger than I anticipated and they were really filling. I knew that we had found a good restaurant after becoming a little full after the appetizers. The only thing I would have deducted from the order of shrimp was the mixture of wasabi sauce. For those that are not familiar it is a spicy sauce and for me it does not leave a good taste. I was fortunate to have such a tasty drink to wash it down with and I do not regret ordering the peach lemonade. It was really sweet and reminded me of my home back down in Georgia. Another thing to like about my drink was that the outer rim of the glass was covered in sugar so that the sweet taste really stands out.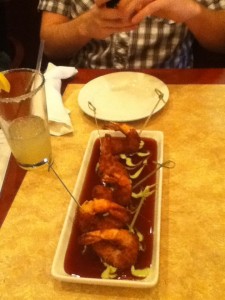 Next up was to order the main course and I narrowed it down to either the cheeseburger, grilled turkey sandwich, or the grilled ham sandwich. All of the options sounded great but I decided to go with the grilled ham sandwich as my main meal. I also ordered a traditional side of fries. When my food came to the table I was happy to see the style of bread used to make my sandwich. My first bite into the sandwich was a combination of warm melted cheese and sweet tasting ham. There was a sauce within the sandwich that made it really pop with the sweeter taste.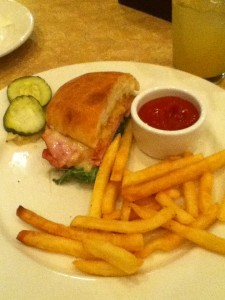 I thought my meal was great and I also enjoyed sampling all of the appetizers. I have no complaints about our service I feel like they handle our large group very professionally. If I ever decide to go back I would like to be accompanied by a date. It is a bit classier than your typical restaurant. I would also like to explore their alcoholic drink menu and sample them. Surprisingly I missed out on dessert. So I would also like to go back and experience some of their desserts. In all I think it is a great restaurant.