Bevs on the River


Today our eating Sioux land crew traveled to the other side of town exploring the river side. We ate at Bevs on the River I couldn't imagine a better name for the restaurant. The view is outstanding as it overlooks the Missouri River. The restaurant's appearance alone was very impressive. It had the combination of a classy restaurant along with being an outdoors theme. You also had the option of dining outside while enjoying the glazed fire pit and river front. Bevs also provides an up to date bar with a variety of options to choose from.
To start my meal off I ordered the appetizer of some crab cakes. This was my first encounter with crab cakes so I wasn't sure what exactly to expect. The waitrest brought out a plate of four crab cakes with some sort of sauce that goes well with them on the side. It also came with half a lemon so you can give it an extra kick if you like. Even though it wasn't the best appetizer on the menu I still really liked eating those crab cakes. My beverage of choice was of course a cherry coke. I have been pretty consistent with ordering a glass and they put a good amount of cherry syrup within my drink. Just remember to stir well.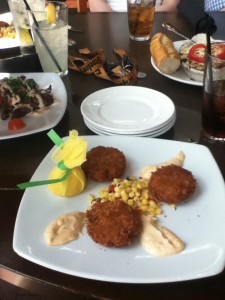 For my main course I decided to order the Monterey chicken sandwhich that contained grilled chicken Monterey sauce, bacon, and white melted cheese. This was a hard decision to make because there were so many other good options I could have gone with from the lunch menu. This was probably the best lunch menu I have seen during this eating Sioux land experience. I was also debating the country fried steak with breaded steak, mashed potatoes, and white gravy, or going with the calzone. The calzone was a complete change of pace for my taste buds having a variety of meat and cheeses within a huge chunk of breading. But the Monterey was the one for me. It had me at bacon and there is nothing I love more in my food than something that will raise my fat cells a blood pressure through the roof.
The dessert menu was to die for. I would make any off season wrestle tear up a little bit. As a class we ended up ordering all of the desserts from the menu and sampling them all. They had a variety of chocolates and other cakes that were fantastic. I was truly a kid in the candy store.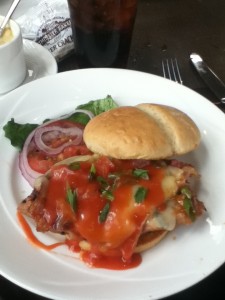 Bevs on the River is a great place to dine. I feel like it is the number one place to bring your significant other on a date too. It would be much more special to bring them around dinner time so that you can enjoy the outside fire pit and night sky. This place really knows how to set the mood. If I were to have any complaints it would be the current construction going on within the restaurant. They are currently renovating a small portion of the place, but in the end it is for the benefit of the customers.