President Barack Obama has not always been the polished Commander-in-Chief that America has known for the past 4 years.  He started from a much humbler upbringing, but soon went on to greatness. A fact that could very well be at least partially attributed to his wife of 20 years.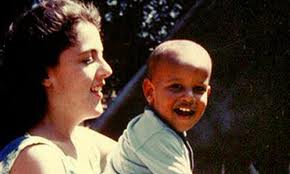 Barack Hussein Obama was born August 4, 1961 in Honolulu, Hawaii. His mother is a white Kansas native while his father, from Africa, was on a scholarship to pursue an education at the University of Hawaii.
Obama enrolled in Punahoa Academy where he excelled in basketball and graduated with academic honors.
He graduated from Columbia University in 1983 with a degree in political science, and he moved to Chicago to work with low-income members of society.
In 1985, he attended Harvard Law School where he met Michelle Robinson, an associate at a law firm. The Obamas graciously welcomed me into the White House where they discussed their relationship.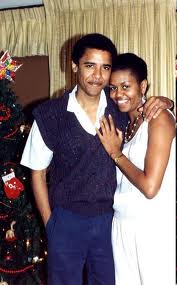 "It was all uphill from [when I met Michelle]," Obama said with a smile, looking around the lavish Red Room of the White House.
Michelle laughed, "Our relationship was first a friendship. It took off from there."
Barack scooted closer to his wife on their ornately designed red leather couch with yellow trim and exchanged smiles, obviously in love.
Even though Barack was advancing in the political field, Michelle felt like he never changed as a person.
"To me, he was still the guy who'd picked me up for our dates in a car that was so rusted out, I could actually see the pavement going by through a hole in the passenger side door."
Eventually, the two were married in October 1992.
Despite the fact that their marriage and love looks so easy to the public eye, it's hard work to maintain.
"We have adjusted to maintaining a really solid relationship at a distance. We talk every day, every night. If we have a moment, no matter how tired we are, we go on a date," remarked Michelle.
Barack nodded next to her, "It's vital."
The Obamas had their first daughter Malia in 1998, followed by Sasha in 2001, which added love but also more work to their already stressful lives.
"Those early years [of child raising] are a whole lot of work. But the truth is that everybody struggles with it — we just don't talk about it out loud. And then also I had to change. Because there were a lot of things time-wise that he couldn't provide, because he was not there," said Michelle.
When he was at home, though, Barack was still a typical guy.
"It is important that when I'm home to make sure that I'm present and I still forget stuff. As Michelle likes to say, 'You are a good man, but you are still a man.' I leave my socks around," he said with a smile aimed right at his wife. She rolled her eyes and playfully punched his arm.
The two adapted to the struggles of child raising along with a political career quite well. Through it all, they have maintained a closeness and a genuine respect for each other.
As I watched the night the Obamas took the stage when Barack won his first presidential term in 2008, his daughters looked out to the crowd with hesitant smiles. Amidst the flashing lights and waving flags, Malia gripped her mother's hand tightly and Michelle looked down at her with a huge smile, reassuring her daughter by mouthing, "We won."
President Barack Obama said it best that night in his first inauguration speech,  "I would not be standing here tonight without the unyielding support of my best friend for the last 16 years … the rock of our family, the love of my life, the nation's next first lady … Michelle Obama."