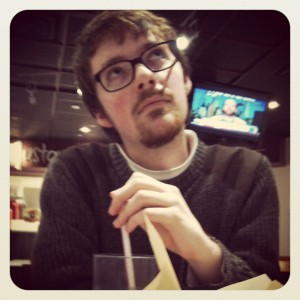 Charles Bass is like a carefully wrapped present at a 12yr olds' birthday party. The present that sticks out from all the rest because it's in a box the size of a refrigerator. The 12yr old obviously saves it for last, but the entire time is just wondering in the back of their head… "What could this large box possibly contain inside of it?" The 12yr old reaches this gift. She peels back the wrapping paper. She opens the box. She FINDS… Another carefully wrapped box.
This is the life of Charles Bass.
Setting up a meeting time to interview Bass was a task within itself. The 20yr old college student is a busy one this semester with a full load of credits, participating in clubs, and having a leadership role in several of the said clubs.
I got the interview however, and after sitting down with Bass to peel back the first essential layers, I realized he wasn't going to make this easy.
I was the curious 12yr old child, and Bass was an intriguing box I was going to have to work at to get to his core.
He has shorter brown hair, a kept beard that extends to his neck, black framed glasses, and can typically be seen wearing a turtle neck or sweater, especially this time of year. Bass has a "hipster-esque" style, that can lead anyone to be curious to know what is inside this carefully wrapped and visually intriguing human sized box that stands out among his fellow undergraduate classmates.
I liken Bass to this box, but that's a little misleading. He's actually not that large at all. Bass is about average height and has a thin frame with little to no muscle mass. He refuses to work out, but still manages somehow to stay rather thin.
However, this is just what a person perceives by looking at him. This is where the curiosity first roots, and from here only builds.
"I don't like this postmodern attitude that what I broadcast, or even what I assert, is the absolute of my being," says Bass when asked how he would "like" others to view him. "While I accept the right of someone to assert their identity in this way, I think that it's limiting to pigeonhole myself in the same way it's limiting for us to pigeonhole other people. I can learn things from the way other people view me and no matter what they project on to me, it has nothing to do with who I really am."
Bass responds to my questions with vague generalities that only lead me to more questions. People are so curious to know his thoughts on issues, and to know what is in his core that makes him tick.
"I'm not some special person with a special mission. My goal is the same as the goal of any other randomly selected person. If I'm alright and you're alright and everyone else I meet is alright, then I guess I've done a pretty good job," says Bass.
If I haven't already mentioned, Bass is beyond any intelligence I have ever come across. He knows people want to know more about him and the way he thinks, but it's as if he wants the people questioning him to learn more about themselves at the same time they're trying to learn more about him. Every word, sentence, dialogue that comes from Bass's mouth is a carefully coded message made to make a person think more interpersonally. This makes some people uncomfortable.
"Without insulting me, he makes me feel stupid. I understand he's trying to solely inform me and make me think, but it's like I don't know anything about anything after he's done talking," says Jacki Peters, a student that had Bass in an Honors class.
"I don't know what I'm doing. If it looks like I know what I'm doing, it's a clever façade," says Bass in his "About" section on Facebook. "I'm going to school to get a degree. If I once knew why I was doing this, I've now forgotten. But I'm going to school for free, so I suppose I might as well keep at it. It's something to do. I did some stuff at one point and it was pretty swell, but now I'm out of that phase. Now I mostly just think about doing stuff. It isn't exactly as swell, but it's a lot less work."
Bass is a triple major in Studio Art, Philosophy, and Relgion, and still graduating in four years from Morningside College. He is also looking into studying abroad in Japan in the Fall of 2013. All of this, like he said, for free. His father, Patrick Bass is a professor at the college, young Bass receiving certain benefits because of this.
When asked what he values, Bass answered, "I value whatever lets us discover value, as cryptic as that is. I value Liberty, and Autonomy, and Truth, and Compassion, and Equality; I value my fellow human beings. I will do whatever I can to uphold other people and help them to discover and synthesize ethical truth."
After receiving his four year undergraduate degrees from Morningside College, Bass plans on attending graduate school. He hasn't decided on a particular one just yet, but says "preferably one on either coast of the U.S." and that has a strong painting curriculum. Bass wants to become a painting professor, but he doesn't want to just teach the art of painting… No, no. Of course not. Bass wants to be able to also teach "painting theory," what goes on behind the action of actually painting.
Foreseen long term goals for Bass, "If I can, I would like to find the truth, teach the truth, and through the truth change the world. I don't have a backup plan."
What is at the core of Charles Bass's carefully wrapped package? A heart, that cares so immensely for his fellow human beings that everything he does seems to be– in a way to better everyone else around him. All the while growing himself.