Aug 22 2015
Being a newspaper editor isn't the most stable of careers in the internet age, but Andy McGinn is breathing new life into The Jefferson Herald, his hometown newspaper.
The Morningside alum (B.S. 1999) returned to Iowa in December 2013 to take over as editor of the community newspaper. Each week he delivers to his readers a "big picture window on the county."
"Ninety–eight percent of the people love it. It's exciting," McGinn said. "One week it's going to be a story about a POW and the next week it's going to be about an ultimate fighter. They don't know week to week what we're doing. Sometimes I don't know week to week what I'm doing."
The strategy is working. In February the Herald earned seven Iowa Newspaper Association awards for writing, design, and community service.
"By small town weekly standards, I think we're doing things you wouldn't expect," McGinn said. "I'm playing to my own strengths. If you ever wondered what would happen if one of the feature guys got hold of a whole newspaper, this is it."
McGinn credits the Herald's recent success to the newspaper's owners, Ann Wilson and Doug Burns, who bought it in 2012 and gave it a facelift. The Jefferson Herald Andy grew up was gray and boring. Not any more.
"They're trying to bring it into the modern era. The paper very much looked like it had in the fifties. Like 20 things on the front page. You expected one of them to be 'Horse thief caught; Lynching tonight'" he said.
Now there are just two or three stories on the front page. The people of Jefferson and Greene County are front and center in brightly–written articles. Color photographs are played large. The newspaper is actually fun.
"I think we have a pretty good mix of hard news and human interest. Generally the visual lead will be a human interest story," Andy explained. "You have to have hard news or people don't feel like they're getting their money's worth. Hard news is like the vegetables on the plate if you're a meat eater."
McGinn adds, with no apology, that in the time he has been at the newspaper he has not been to a single school board meeting. The Herald prints minutes of city council and county supervisor meetings, and he'll attend if the agendas suggest something important will be discussed.
"I'm a one-man news staff," he said. "Do we want to just go to city council, board of supervisors, school board… or do we want to try something new, something different and have stories about people. I've found that people like reading about people, and they don't necessarily like reading about things. If they did, more people would be at your average city council meeting."
Education and Preparation
Andy hasn't changed much from his days at Morningside. Red hair. Elfin face. Giddy laugh. As Entertainment Editor for The Collegian Reporter he cultivated a wry, witty, and generally unconventional writing style that is still evident in his Herald reporting.
The student who once took the Eppley Auditorium stage in chaps and red underwear is more serious as an adult. He's married, a father. And as a newspaper editor, a community leader.
His strategy for making the Herald relevant for Greene County readers was developed over years of working for a large metro daily newspaper in Ohio.
"Working for a daily you could see what was possible, and there's no reason we can't replicate that on a small town scale," he said. "I mean, why do small town papers have to have crappy design, for lack of a better word. If I go to the hospital here in Jefferson I want the best care possible. I don't want crap care because it's a small town."
After graduating in 1999, McGinn accepted a page designer job with The Fort Dodge Messenger. Within six months he realized "putting together an international news brief package for the Thursday paper was not exciting me. I realized I really wanted to write full time."
He and his wife Amy (Divis), also a '99 Morningside graduate, packed up and moved to Springfield, Ohio. His position as an entertainment writer for the The Springfield News–Sun turned out to be the "perfect gig."
In his 14 years at the News–Sun, Andy exploited a unique writing style, a love of pop culture, and the opportunity to have fun doing his job. He interviewed a who's who of celebrities for both the News–Sun and USA Today, and wrote a weekly column, "McGinn Again."
[Click here for more on Andy's entertainment writing]
A highlight of the News–Sun years was a trip to Los Angeles in 2005 to cover the Grammy Awards and Springfield native John Legend.
"I was writing stories about John Legend before he even got a record deal. I just had a sense something big was going to happen," McGinn explained. Legend received eight nominations and the newspaper sent Andy and a photographer to LA for nearly a week.
"We got to hang out with him and his family. We were in his hotel room when he was getting ready," McGinn says, a bit of wonder still in his voice. "Access Hollywood came and did a shoot with him. We sat and watched as his brother gave him a haircut. Then it's like, 'Excuse me, I have to take a shower now.' That kind of story opportunity…. To come right out of Iowa and do that kind of stuff was incredible."
Those good times and the ability to have fun writing came less and less often, however, as the News–Sun cut staff, consolidated its news room with other Cox newspapers, and de-emphasized features and entertainment. McGinn found himself on the news beat, eventually covering the military beat and drone warfare.
"I went from all that to writing about drone warfare. It was quite the change, but in retrospect, my time writing about the military and veterans made me a much more well-rounded writer, and some of my favorite stories so far in Jefferson have been about local veterans," he explained.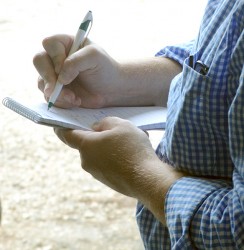 Though it felt like time to leave the News–Sun, McGinn nearly passed on the Herald job. When his mom asked him if he'd be interested in being the Herald editor, his immediate response was, "Are you kidding me?" He had no interest in the newspaper he remembered. A day later he had his application in the mail.
"If the opening had come five years earlier, it would have been a solid no," he said. After some thought he decided look at the Herald's ad on journalismjobs.com. "By the last word I was getting my portfolio ready. What clicked with me was 'come practice journalism free of corporate politics and structure.' I was on the floor drooling."
That same night he sent Doug Burns his portfolio; Burns called the next day to set up an interview. Burns was scheduled to attend a convention in Chicago so they met in the middle, Lafayette Indiana. By the end of the day, two hours later, Andy, Amy and their son Henry were moving back to Jefferson.
Looking back, Andy calls the News-Sun a 14–year training ground for his position at the Herald. "I got my education at Morningside, but with newspapers, you have to just start doing it. You have to be immersed in that culture."
McGinn now describes the move back to Jefferson as "equal parts surreal and rewarding." The reward for McGinn has been to reconnect with his hometown and the people of Greene County. The reward for Herald subscribers is an attractive, modern newspaper.
No responses yet
Leave a Reply