I went to graduate school in Fort Worth, TX, and during my time there I acquired a taste for barbecue. My favorite BBQ joints down in Texas were Railhead and Cooper's because of the food and the atmosphere. I loved walking up to the counter, ordering my foot and watching it sliced in front of me. I've never liked messy BBQ, so the dry rub used at these places gave me a great chance to eat while dipping into the sauce rather than having it slathered over my food. The cold beer, rustic wooden floors, and rolls of paper towels rounded out the experience. As someone who grew up thinking that barbecue was the oft-burnt pieces of chicken my dad put on the grill, these places were a revelation. Since moving back to Iowa, it's been hard to find a good place that comes remotely close to the taste or feel of my favorites in Texas.
Enter House of Q. House of Q opened just under 3 years ago in it's standalone location; before it opened on Transit, it existed as a food truck that roamed the city. I had only been a couple times before I went with the class, and I'm surprised I haven't been there more. It captures the taste and some of the ambiance of the best Texas BBQ.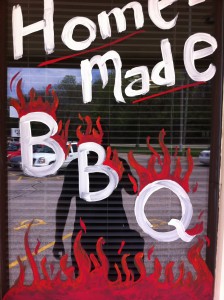 One of the reasons I knew I would enjoy House of Q before I even walked in was that I saw they had a sense of humor, like all the good BBQ places seem to have. Railhead sold shirts saying "Life is too short to live in Dallas." House of Q not-so-subtly reminds you of what you will be eating as you step in the door with this lovely drawing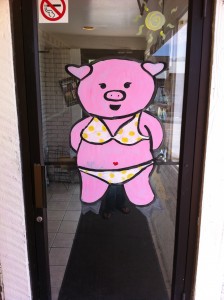 And, I was excited as I was greeted by more good news in marker. The daily special was the first thing I saw, and I probably would have ordered it regardless.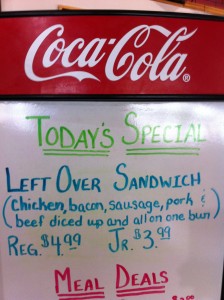 The "Left Over Sandwich" contains a bit of every meat House of Q serves on one sandwich. I have chatted with the owner (Big D) on previous occasions, and he was more than happy to chat again about everything in the sandwich.  I learned that the seasoning they put on all their meats, Big D's own secret recipe, is showcased in the sandwich. The seasoning can also be found on the fries, which is wonderful because it has some spice, some salt, and some sweet in it. Crunchy french fries with a touch of salt and a touch of sugar with a bit of a kick to finish are a wonderful compliment to all the juicy, tender meat. Big D makes a dry rub BBQ that would fit in, nay, shine at any Texas joint I've been to.
To compliment the sandwich, House of Q provides four varieties of tomato-based sauces and a special chipotle mustard. I'm a sucker for mustard, so after I tried all the sauces, I stuck mainly to the chipotle mustard. (All the sauces are good, though I didn't care for the honey BBQ. To be fair, I never like a honey BBQ sauce. Personal preference, not House of Q's fault.)
Accompanying my incredibly cheap, extraordinarily tasty sandwich, was a beer from the Founder's Brewery, one of my favorites, called Double Trouble (9.4%), an Imperial IPA. House of Q keeps over 100 beers on hand, all bottled, none tapped. The (of age) students and I tried a good variety of beverages to accompany our meals, and all were good, though one student's beer seemed especially equipped to compliment the smoky BBQ of House of Q.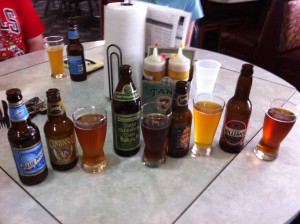 My entire meal–enormous sandwich, incredible fries, and sensational beer–cost just about $10. Not only is the food tasty and the cold beer selection the best in Sioux City, it's CHEAP! If you're on a budget, you can still get everything you'd want out of a BBQ place.
Here's the ceiling: