Minervas
The restraunt of the day was Minervas. This would mark the final step in our lunch may term journey. I had never aten at Minerevas before today. The first thing that I noticed was the environment. It was much classier than any restaurant that we have yet ventured to. We were immediately seated to our table, and then came the food. To start with I ordered the chicken quesadilla.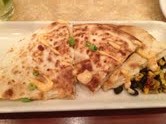 This appetizer was very delicious. It was filled with chicken, shredded cheese, pico, and beans. The flavors combined to make an appetizer quite out of the ordinary. I did enjoy this appetizer, however it was not my favorite thing in the world. The chicken was slightly more blackened then I would have preffered and overall I just found it to be slightly average. Next to arrive was the salad.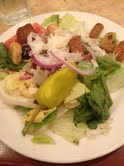 I ordered the house salad, which was delivered with italian dressing. This salad was great, but again very ordinary. It was very reminiscent of Olive garden salad. That being said, differentiating a salad is no easy feat and no discredit to the restraunt; to say it is average is not to say that I did not enjoy it. Finally to arrive was my burger.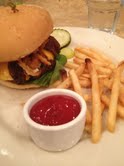 I ordered the Ranch Burger, cooked medium. The burger was quite juicy and cooked to a perfect warm red and pink center. It was topped with bacon, cheddar cheese, ranch, and lettuce. The bun was also warmed on what appeared to be a grill. The burger was quite good, all of the different components coming nicely together. The bacon was nice and crispy as was the lettuce, although much different forms of crispy, of course. The ranch, however, I feel could have been left off.  Though I only got about half way through the burger before becoming entirely too full to go on, I still could not steer away from the dessert.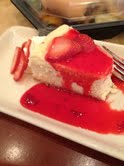 I ordered the strawberry cheesecake. I was very happy that I decided to save the burger and order desert, for this was my favorite course of the entire meal. The cheesecake was incredibly creamy and amazing, with a perfect balance of 'cheese' and 'cake'. The strawberry topping was also quite delicious, and pairing the sauce with the freshly cut strawberries made for a great accent to the desert.
Overall, I had a good experience at Minervas. I reccomend that at least every who has the chance to try it, at least once! That being said, it was quite pricey in comparison to a lot of other places that I have been to offering very similar types of food.
In short; get someone else to pay and go for it!