El Tapatio
The one, and only, mexican style restaurant on our May Term was El Tapatio. Located on Gordon drive, I have drove past it maybe a thousand times over the years, but today would mark the first time that I have ever entered the place. And I was glad that I did.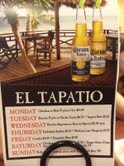 From the outside, the place had a somewhat dingy feel. On the inside it was much better, sporting colorful mexican themed attire. Today I decided to order the 'meat tower'. Ok, maybe it wasn't called the meat tower, real name Parrilla, but that is what we called it today at lunch. Prior to receiving this course, however, were the chips and salsa. Due to my air headed-ness and shear immense hunger, I forgot to take a picture of the chips, so a description will have to do.
They appeared to be fried in house, and were perfectly salted. The salsa also seemed to be home made and was delicious. It was somewhat like pico de gallo, with a salsa like consistency. It was just spicy enough to satisfy, without taking copious amounts of water to calm down my tastebuds. After aboout an entire basket of chips came the Parrilla.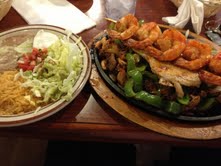 Evidently, in Spanish Parrilla most closely means a whole bunch of delicious food. On the left were the toppings; fried rice, pico, guacomole, lettuce, sour cream, and refried beans. These were good and very typical of any Mexican taco dish. That being said, when I ordered I was not aware that I was ordering a taco dish and had no shells. As I was thinking this arrived my flour tortilla soft shells, not pictured above. They were warm and perfectly soft. As for the dish you see above and to the left, it is basically a giant pile of meat and seared veggies.
On top, the shrimp. They were very large shrimp and coated in a red sauce. The sauce was very different; it was quite sweet but also quite spicy. This made the shrimp my favorite part of the plate. Directly underneath the shrimp was the pork chop. This was my least favorite part of the dish, but was still good. The thinness of the chop made it a little overdone, and had a tough consistency that was less than favorable. But wait, theres more.
Under the pork chop were shredded chicken and steak pieces. These were quite good. Both shreds were cooked very well; not to long or too little, giving them a juicy tenderness. Though they did not appear to have seasoning, the final part of the dish, the veggies, gave them a lot of flavor. The veggies were cooked perfectly. They had some sort of seasoning rub, consisting of green peppers and onions, and were cooked perfectly. They were soft yet too soft, still containing a crisp nature.
Overall, I had a great experience at El Tapatio. The enormous plate of food that I ordered was only $12, a price I found to be very reasonable.
I reccoment that El Tapatio be a regular spot for everyone in Sioux City. It has great food, great service, and at an affordable price.