Trattoria Fresco
Today our class dined at Trattoria Fresco, an Italian restaurant located on Jackson street in downtown Sioux City. On a side note, I have come to realize than many hidden gem restaurants are located on the North side of the city and I clearly do not venture out enough. Fresco, until today, was a complete mystery to me, as I am assuming it is for most people in Siouxland. I forgot to get a picture of the menu today, so my apologies for the poor quality picture from Google seen below.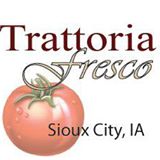 The first thing I noticed was immediate; the environment. As soon as you enter the door into the restaurant you immediately find yourself in a dimly lit waiting area full of Italian themed decoration. After a short wait, we were then escorted to our table. It was a pretty nice place; had the wine glasses, nice table cloth, etc. As it was lunch time, we then were able to choose an entree off of their lunch menu. After much debate inside of my head, I decided to go with the chicken parmesan, as pictured below.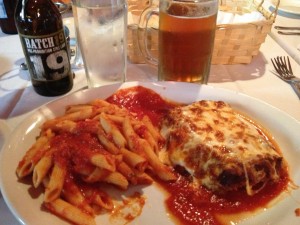 The breaded and fried chicken was smothered in mozzarella cheese, and the boiled penne noodles as well as the chicken were coated in a creamy tomato based sauce. As for the chicken, it was quite good. The gooey cheese and sauce were both seasoned in garlic and made a great pair over the chicken. Parts of the chicken were tender, while around the edges where the chicken was more thin it was slightly over done. The noodles were cooked perfectly, however, and were soft and not at all hard or chewy. The sauce over the noodles gave it a little spicy kick as well. When incorporating the chicken, noodles, sauce, and cheese into a single bite it was truly a great Italian tasting dish with each of the different areas going great together. By the time I finished this meal I was quite full, but still decide to give a desert a try. And boy was I glad I did.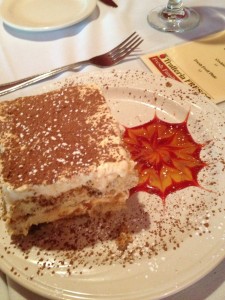 The tiramisu, pictured above, was incredible. Tiramisu, in a nutshell, is a very moist cake soaked in rum with a cinnamon taste. This tiramisu was literally the best desert I have ever had. It was incredibly moist and soft, quite literally melting in your mouth. The cinnamon taste was very evident, and the decadency of this desert cannot be overstated. When I though it couldn't get any better, notice the very well presented flower sauce design on the side. It was almost too pretty to eat, but I am glad I ate it anyway. I am not sure what it was, but it tasted very sweet, like a melted candy; a very good melted candy at that. The sweetness of the sauce paired with the melt-in-your-mouth consistency of the tiramisu paired together to make this the best tasting desert I have ever had.
Overall, I had a good experience at this restaurant. The service was decent; at first, our waiter confused a couple of things, but by the end seemed to have everything down. The environment provided a pleasant out-of-the-ordinary experience, my entree was pretty good (though not super amazing), and the desert was incredible.
My Recommendation: Try the food once, go there for desert all the time. Especially if you have a special someone you are trying to impress with your culinary knowledge.